Keeping tabs on Ottawa Bluesfest, part 1: Aysanabee
[Another Eastern Ontario report from correspondent Ross Macdonald. – AC]
Opening for Tokyo Police Club and Half Moon Run on the first night of Ottawa Bluesfest was the up-and-coming Oji-Cree folk artist Aysanabee. Before the show we caught up with Aysanabee in his dressing room backstage; he cordially offered a drink as we sat down to chat. He appears calm and relaxed about 90 minutes before his show.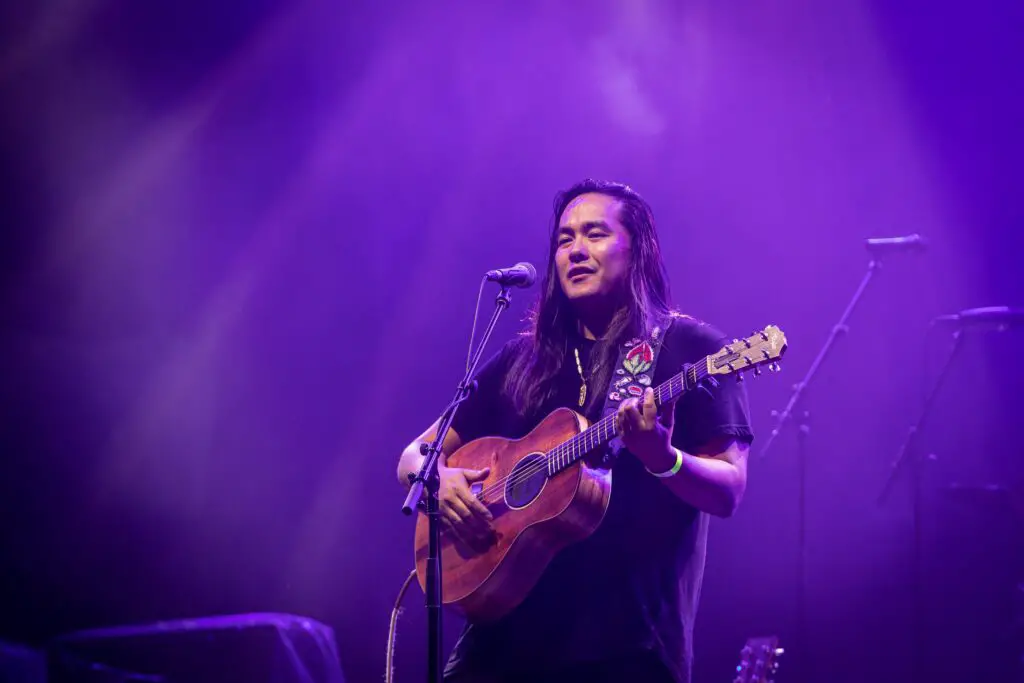 Your guitar work is fantastic in your music, are you classically trained?
I am self-taught but I am teaching myself theory right now, I started teaching myself over the pandemic. I have played with classically-trained musicians and I've always wanted to learn but I was just too busy before the pandemic.
You recently signed with the label Ishkōdé, their first artist. Is it a multi-album deal?
It is for this album that I am working on now and potentially another album after that. They never want to make any of their artists feel trapped, they want to be more of a family or community, 'we are here to help'.
You will be recording this new album, how is that going?
I will be working with Hill Kourkoutis http://www.hillkourkoutis.com/ at her studio. We get along and I love her work. We will be re-mastering Howling and Ocean Breath, it will be ten songs. There will be two versions, one with just the music and the second one with some of the interviews with my grandfather. We start recording October 4th.
And I would like to give back to the community. A portion of the profits I will donate back to Sandy Lake.
When your grandfather was 6-8 years old he lived on the trap line. Then from 8-19 years old he was in a residential school. Did he tell you about those experiences?
He was taken away when he was eight. All the parents were threatened that if they didn't give up their children they wouldn't get support, some even got threatened with jail. They had no choice but to give away their children. I knew my grandfather went away to residential school, but he never wanted to talk about it (until the interviews).
The shock and anger from finding hundreds of unmarked graves at a residential school in May has waned. What can we do to keep some focus on this?
It comes down to everybody paying attention and speaking about it when we can. It's tough, it wasn't unexpected, the same thing happened after George Floyd was killed. We had a feeling that a change was going to happen and a few months later something else pops up. It is going to take a lot of work, baby steps to start.
I understand that your upcoming album has a theme, can you elaborate?
The album I am working on will be called Watin. That is my grandfather's name, the album is named after him. The album starts with his story and weaves into my own. The concept floats around the idea of residential schools and the legacy of those schools on the indigenous family; how it transferred from my grandfather to me. I'm not going to focus on the stories we know now; I am going to focus on the moments of strength he had in those times, the little wins and not just the suffering. I have been recording these conversations with my grandfather since the start of the pandemic over 4-5 months. We were talking in one of the interviews about his father SeeSee Pano, I asked him what his father's name meant and he didn't know. I was playing my guitar and started a song and it wrote itself; that is where the idea to make the album came from.
Who are your musical influences?
It changes from time to time. When I first started playing music it was Bob Marley. My brother, when he moved out of the house, he left some Bob Marley CDs. In our house where we grew up we didn't have electricity so we had a generator that we would turn on and I had a CD player and these Bob Marley CDs were the reference that I would use to start making music. When I started making music, I actually made reggae music. I moved out when I was 15 and started a band. We played our first show, it was a battle of the bands in Thunder Bay against classic rock and metal bands, and there was us, a reggae band. So we go up there and we start playing our reggae music and I started singing and I sang with the thickest Jamaican accent you've ever heard (laughs) because I was listening to Bob Marley and writing like him. It took me a while to correct that. But some of that still influences the tone I have.
Any upcoming collaborations?
Before I signed with Ishkōdé I was speaking with an amazing looper guitar player out of Utah, Liv The Artist, https://www.livtheartist.com/ we met through Native Guitar Tours Instagram and we really connected. Down the road I would like to honour our commitment to make a song together.
What's next after the album release, a tour?
We've had a few meetings with a few booking agencies but we are waiting for the album first. Definitely a tour across Canada first given the context of the album. Right now we are focusing on the pre-production of the album.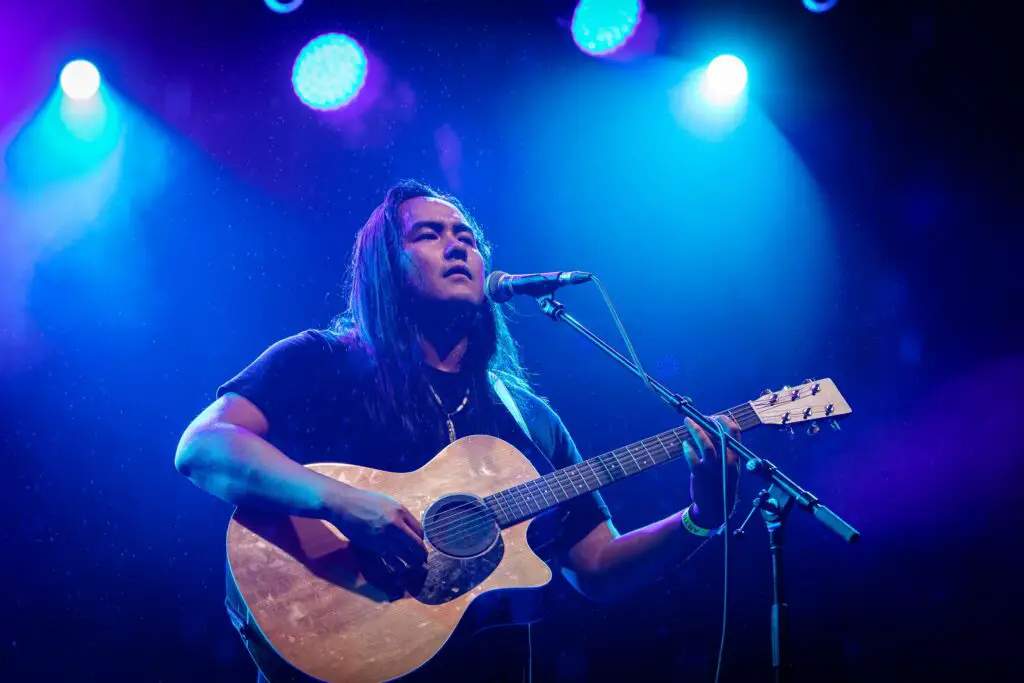 Aysanabee took the stage between rain showers, fortunately missing the biggest deluges of the day. He was on stage with just his guitar and stomp box, but when he started playing everyone was blown away by his strong baritone voice.
Aysanabee recounted his inspiration for his single Near To Death. He was snowshoeing across a frozen river and broke through the ice. He asked the creator for one more shot to chase his dreams. He managed to get out and hike 13km back to camp. After that, he did indeed move to Toronto to pursue his musical career.
Aysanabee incorporated lightning-fast hammer-on and pull-offs into his playing, not something seen often in an acoustic set. The crowd became wholly immersed in Aysanabee's music, singing along to his single The Ember. He finished his set very grateful for the extended ovation from the crowd.