Kingston OHL Team to Honour Tragically Hip with a Special Jersey and Game Night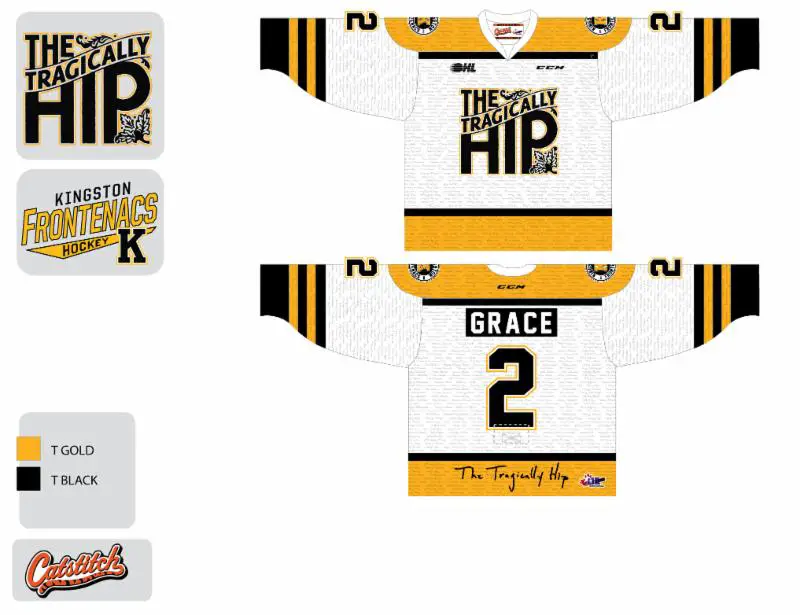 Students of the Tragically Hip know that Gord Downie's lyrics are peppered with references to hockey well beyond "Fifty Mission Cap." And let's not forget that Gord's godfather is Harry Sinden, the legendary coach and general manager of the Boston Bruins. So it's fitting that the Kingston Frontenacs of the Ontario Hockey League plans to honour Gord and the band with a special game and set of jerseys for a game against the Mississauga Steelheads on January 28. From the press release:
"Gord's diagnosis touched our entire organization and everyone we spoke with, from hockey fans to music fans, across Kingston, and Canada," said Justin Chenier, Executive Director of Business Operations with the Kingston Frontenacs. "As a team, we've talked about honouring The Tragically Hip and when the reality of Gord's diagnosis set in, we knew we could to do something special to honour the band and help raise funds to help with the research for brain cancer."
"We started with the base of the 1964 Boston Bruins home jersey, to reflect the year Gord Downie was born and his favourite team," said Chenier. "We added The Tragically Hip's logo-wordmark from their 2011 concert at Bobcaygeon as the main logo on the front of the jersey, and their signature-wordmark on the back. In the background of the jersey is the name of every album and song recorded and released by the band, from their self-titled 1987 debut to 2016's Man Machine Poem. We wanted to include the lyrics of every song they've recorded, but typed in 11-point Arial, the 30,333 words, or 128,380 characters was 45 pages long."
Yeah, that would be a problem.
Once the game is over, the players' jerseys will be auctioned off online. Details on that auction are coming soon.