KISS Guitarist Facing Foreclosure–Which Reminds Me of a Story…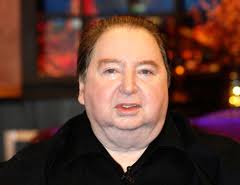 Not Ace Frehley. Read the story.Ace Frehley, the former KISS guitarist, apparently decided to stop paying the mortgage on his house in Yorktown, New York, two years ago. The bank moved in February 15 and is now selling the place for $03,581.48 plus interest. Details at Rolling Stone.
This reminded me of another Ace Frehely story told to me by the late Alan Meltzer, co-founder of Wind Up Records that's equally as bizarre.
A number of summers ago, Wind Up invited me to see a showcase for a band in New York. After the gig, Alan and his wife Diana (aka The Woman Who Signed Creed), invited a group of us back to their penthouse apartment on Park Avenue.
The place was jammed with valuable stuff: furniture from the Versace mansion in Miami (bought after he was shot in some kind of estate sale), a couple of original Warhols and a sketch that looked somehow familiar.
"What's that?" I asked Alan. "Is that a…a…John Lennon sketch?"
"Yep. It's the original, of course. Drawn with John's own hand."
"Where did you get it?"
"Well, when I was living in Connecticut–I was wealthy then, not as wealthy as I am now, though–I lived down the street from Ace Frehely. One day, he apparently told his manager that he was never, ever coming back to Connecticut and that he should sell the house and everything in it. So on the day of the sale, I walked down to his place and picked it up."
"You mean to tell me that you bought a one-of-a-kind piece of John Lennon art at Ace Frehely's garage sale?"
"Yeah. That's pretty much how it happened."
When Alan died in October 2011, he left $1 million to his chauffeur and $500,000 to the doorman at the Park Avenue building. Diana, by then his ex-wife after 13 years of marriage, didn't have any say in the matter.
I have no idea who got the Lennon.