Lamb of God Man Issues Plea for Better Concert Sercurity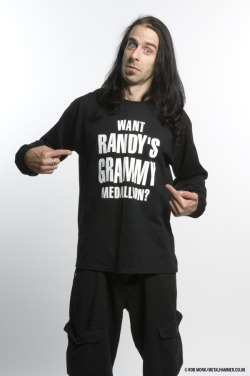 Randy Blythe knows a thing or two about the bad things that can happen at concerts. Although he's relieved to have been acquitted of manslaughter charges in the Czech Republic following the accidental death of a fan during a Lamb of God concert, he's still concerned about security at gigs.
This is an open letter from his website:
If you are reading this, more than likely you were directed here by a link on some heavy metal news site. That means that more than likely you know who I am, what I do for a living, and why I went to prison and then to trial for manslaughter in the Czech Republic earlier this year and last. This also probably means that you are part of my extended music family, and in all likelihood have seen either my band or at least one other band of the metal/punk/hardcore/hard rock genre perform in concert before. You have witnessed the kind of activity that occurs at these shows, and maybe even have participated yourself at some point. Moshing, slam dancing, crowd surfing, and stage diving- these things are a unique part of our scene; the ways some of us express ourselves, shed our cares for an hour or two, and enjoy this music that makes us feel so alive. I grew up in the punk/hardcore scene doing all of the above mentioned things, and I have the lumps, aches, and scars to prove it. I am just like you, just probably a little older and uglier.
When I returned to Prague for trial, answering the charge of killing a young man named Daniel Nosek who was a fan of my band, one of the biggest hurdles I and my legal team faced was attempting to explain the atmosphere of a heavy metal show, trying to get across to three Czech judges how smashing into other people and flying through the air over a crowd in the hopes of being caught was a normal thing. From the perspective of folks who are not a part of our scene, these seem to be the actions of insane people.
"Why would anyone do such a thing? You could be severely injured."
Read the whole thing here.