Let's Analyze the First Month's Worth of Music on Beats 1
Apple's Beats 1 is being promoted as a genre-less, format-less radio station. Its masters maintain that their only criteria for inclusion on the station is that the music be "good." Okay, so what does "good music" mean to Apple and Beats 1?  Quartz magazine did some analysis of the station's first month and here's what they found.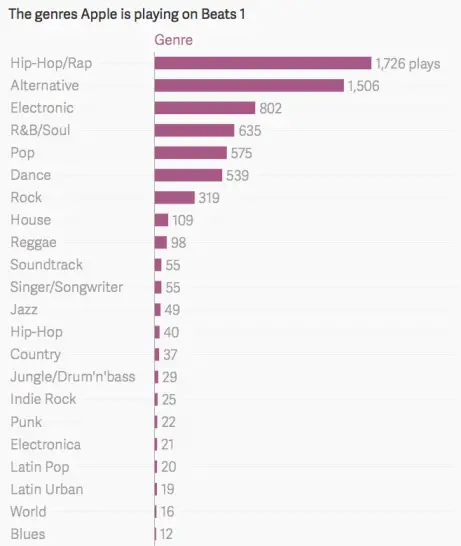 And what are Beats 1 favourite songs at the moment? Here's their Top 10 in terms of spins.
The Weeknd, "Can't Feel My Face," 107 plays
Halsey, "New Americana," 77 plays
Selena Gomez, "Good for You" (feat. A$AP Rocky), 75 plays
Julio Bashmore, "Holding On" (feat. Sam Dew), 68 plays
Beck, "Dreams," 65 plays
The Weeknd, "The Hills," 65 plays
Vince Staples, "Norf Norf," 63 plays
Calvin Harris and Disciples, "How Deep Is Your Love," 59 plays
Omi, "Cheerleader" (Felix Jaehn Remix Radio Edit), 58 plays
Fetty Wap, "679" (feat. Remy Boyz), 57 plays
Radio nerds will want to know about universe size. In that first month, some 2,100 artists got airplay with an average of 375-ish songs covered in a day. In the month that Quartz looked at, 12,445 tracks were played but only 3,371 of them were unique. Eighteen songs were played over 50 times, so if you're so inclined, you can work out the rotations with a little math. Just keep in mind that the station runs in 12-hour blocks: 12 hours live and then a repeat of those 12 hours.
There are complaints that Beats 1 leans too much towards hip hop, but that's all subjective, innit?  I still maintain that Apple will launch additional radio stations (Beats 2, Beats 3, etc.) so they can become truly global. For example, almost everything that's played on the station is in English. What would happen if they decided to launch a station devoted to K-pop or J-pop? And even though the station casts a wide net, I think you'll see things broken out by format a little more. There's must too much music out there to be covered by just one stream.