Let's check in on Ottawa Bluesfest. Here's Day 2.
[Correspondents Ross MacDonald (photos) and Karen Coughtrey (text) are covering the event for us. – AC]
R&B artist Nambi & The Rhythm (an Ottawa-born singer-songwriter) opened the second night of Bluesfest on the RBC mainstage. If you didn't know that your teachers are likely to be your biggest fan and follow your career now you do, and so does Nambi as she opened the set by calling out her grade six teacher, who Nambi seemed surprised to see front and centre in the crowd (way to go Mr. C. of Featherston Drive P.S.!) Nambi was also part of the RBC Bluesfest Blues in the Schools program when she was young and she shouted out her mentor from that program, Maria Hawkins, before performing a song they wrote together 'To The River'.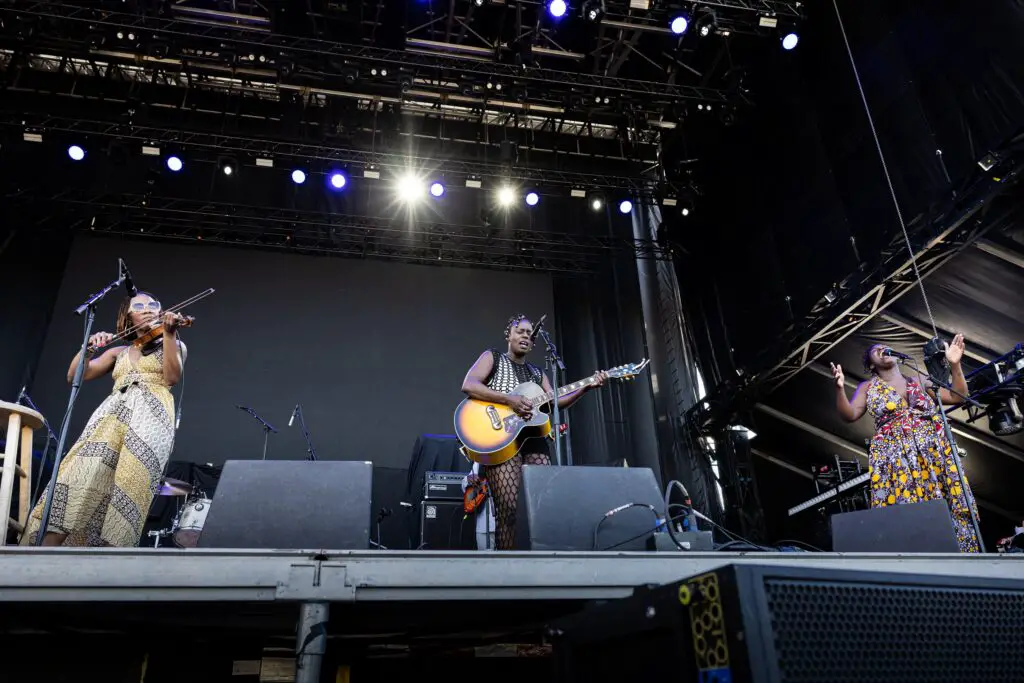 Nambi, her on-stage name in honour of her great aunt, reclaimed the Ugandan name her parents gave her, Nambuusi Kyeyune, in 2020 (before that she performed as Rita Carter). Nambi is a beloved fixture in Ottawa and it's hard to pinpoint her sound. It's acoustic soul, a little jazzy, almost gospel-like at times, but all-in-all catchy in the most wonderful way.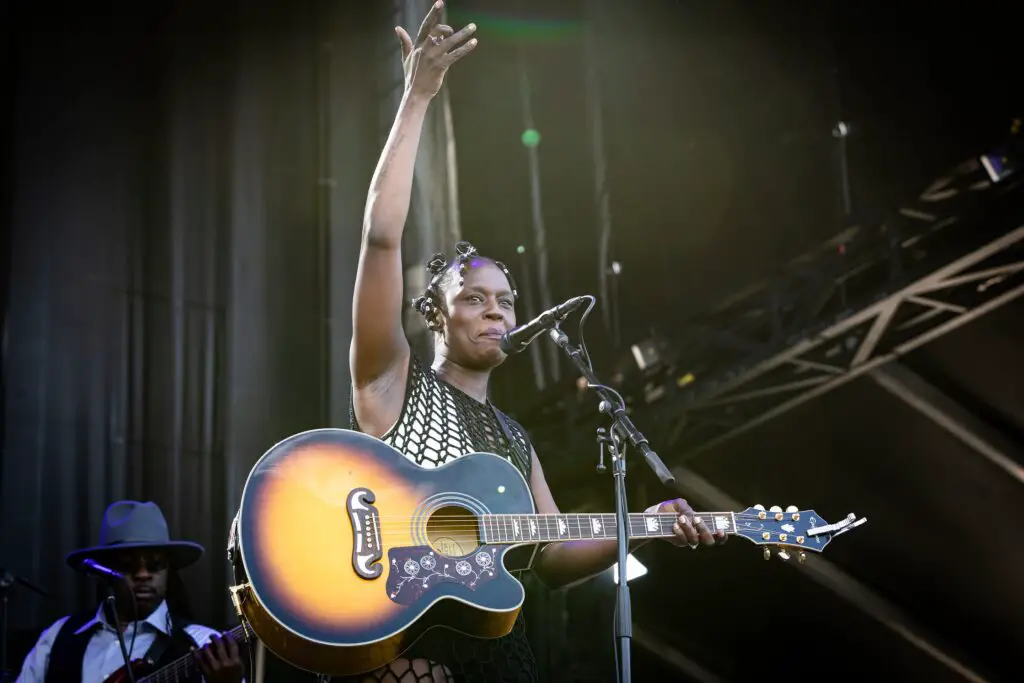 Nambi is also a community organizer, passionate about peace and equality, something that was reflected in her performance of her single 'Shot Anotha Down', a song about police brutality and systemic racism and her song 'Unlearn' which she explained is about normalizing unlearning behaviour or beliefs we were taught and letting go of beliefs and behaviours that no longer serve us.
The crowd could relate to her song 'Text War' and the importance of getting off our devices and talking to each other and she had the crowd singing along to 'Vitamin D' which she dedicated to all the highly melinated or sun loving members of the crowd. Lucky for the Bluesfest crowd this would not be the last we saw of Nambi on this night.
Vancouver's The New Pornographers were next up, captivating the audience on the 20th-anniversary tour of their debut album 'Mass Romantic'. The crowd was thrilled to hear hit after hit including 'Moves', 'Champions of Red Wine', 'High Ticket Attractions', and the title track to the 'Mass Romantic' album. The New Pornographers have a full sound in their live performances, most notably beautiful vocal harmonies that were highlighted on their song 'You'll Need a Backseat Driver'.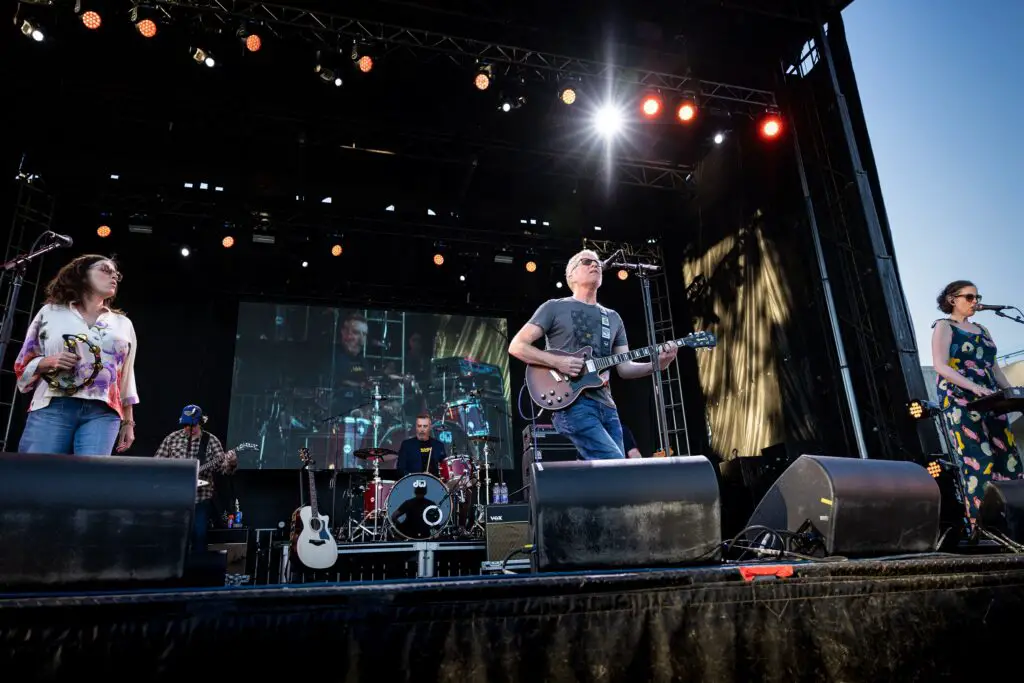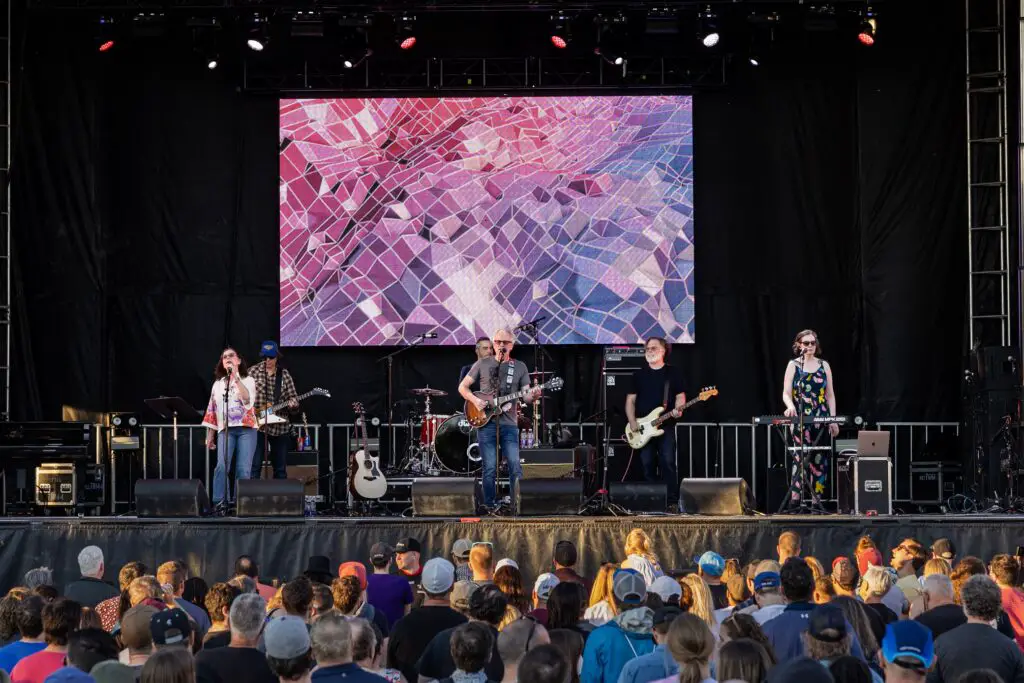 Next up on the RBC mainstage was Australian artist Tash Sultana. In a truly unique performance, they are a one-person band taking the art of live-looping to another level, developing the layers of music showcasing their multifaceted talent as they are proficient on several instruments (guitar, keyboard, saxophone to name just a few) as well as having a beautiful singing voice.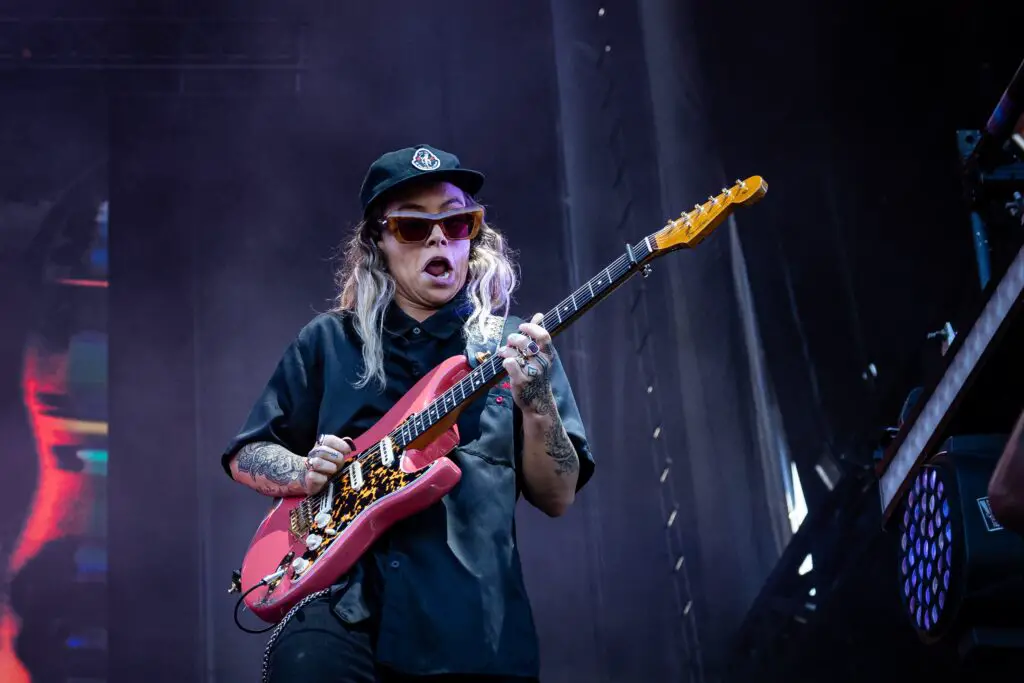 With Tasha's fun-coloured guitars and neon lights, the visuals surrounding their performance were a mix of early 90's neon cool and Egyptian with videos of desert pyramid sandstorms and cobras periodically playing in the background. The performance as a whole is an experience and the crowd was enraptured.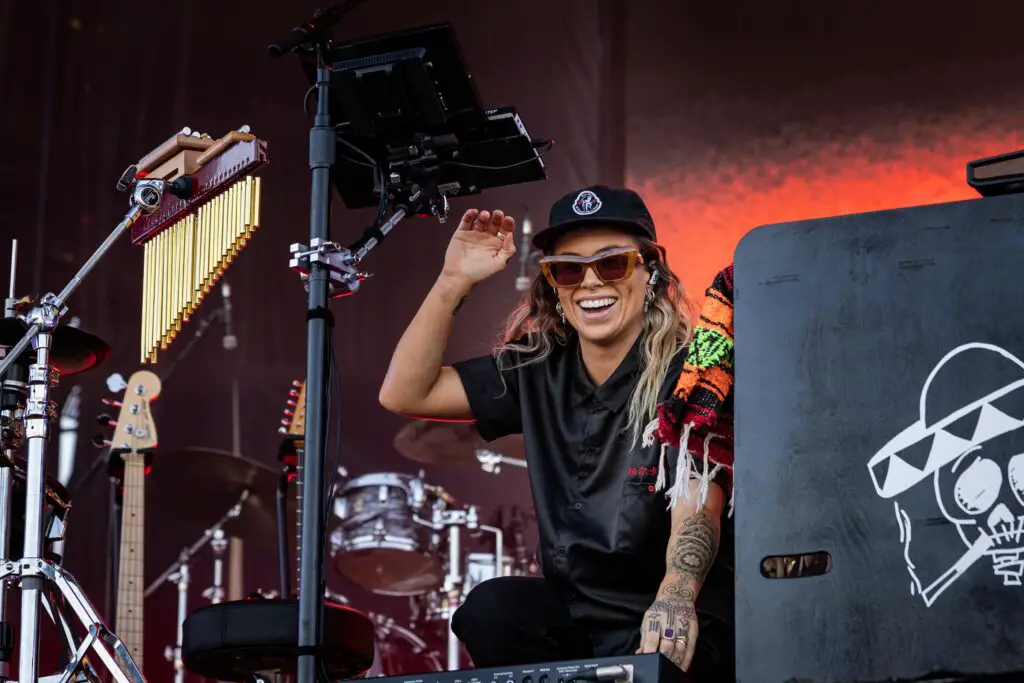 Many of their tracks consist only of captivating instrumentals but the crowd was treated to their wonderful singing voice on their songs 'Big Smoke', 'Pretty Lady', 'Crop Circles', 'Greed', and the set came to an end with 'Jungle'.
The crowd significantly increased in size for the headliner of the night, American singer, Jack Johnson They cheered loudly the second he walked out on stage and despite it being a chilly summer evening they wouldn't depart until the last notes of the encore were finished.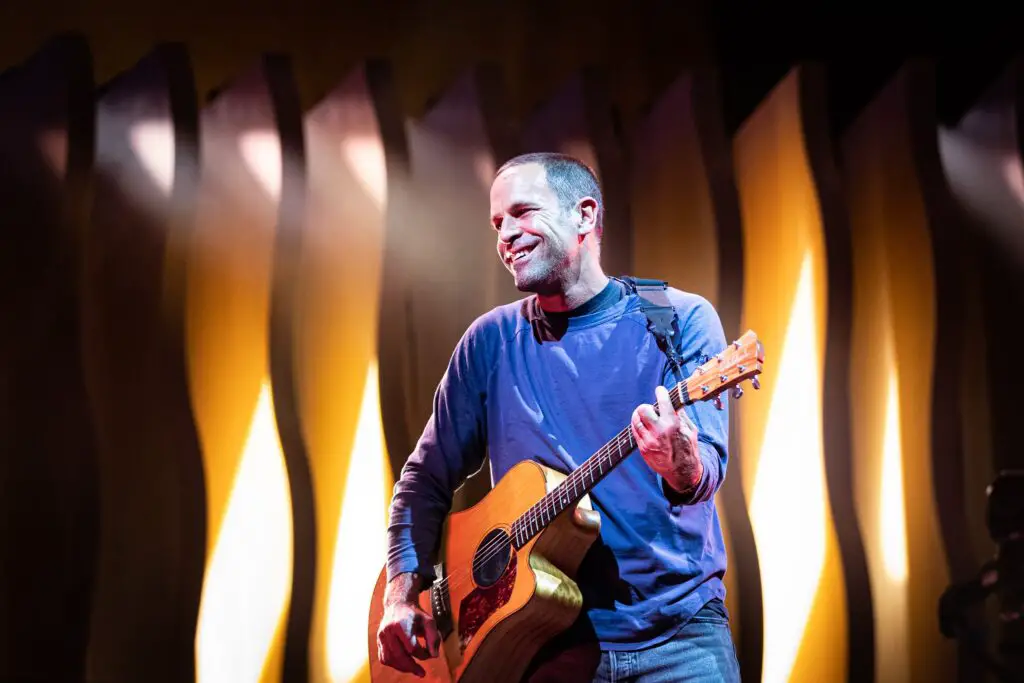 The crowd was entertained by the favourites 'If I Had Eyes', 'Taylor', 'Sitting, Waiting, Wishing' and 'Good People'. He mostly played guitar, sometimes adding some harmonica and he pulled out his ukulele for 'Breakdown'.
Jack is a passionate environmentalist and it's clear he wants to leave a better planet for the next generation, he dedicated his song 'Upside Down' to everyone who brought kids to the show saying "I can feel a change in everything'. Another kid (and adult) favourite of the night was the always delightful 'Banana Pancakes' which he began by singing in French and it was punctuated by an awesome accordion solo by his keyboardist (multi-instrumentalist) Zach Gill.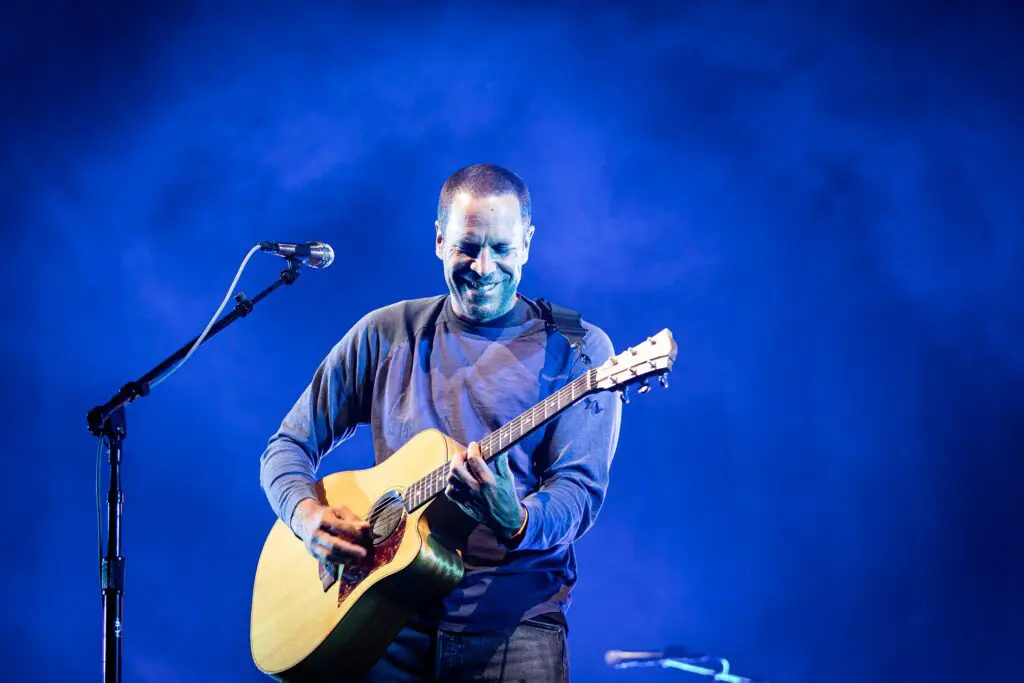 He played a few mashups throughout the night, melding 'In The Summertime' by Mungo Jerry with 'Flake' and 'Just Like Heaven' by The Cure with 'Don't Look Now' and Rush's 'Tom Sawyer'. He also covered 'The Joker' from the Steve Miller Band.
The night ended on a highl note when Jack brought Nambi back to the stage to perform 'Better Together' with him. Nambi had shared a story during her set of seeing Jack Johnson earlier in the day and sharing what a big fan she was and how flabbergasted she was when he replied that he'd listened to her music too. Apparently, they shared some fun musical moments backstage, the mutual appreciation was palpable and the performance was magical. The perfect ending to a great night of music.