Let's Be Honest: No One Knows How Teens REALLY Listen to Music
A big part of my various jobs is keeping on top of how people consume music.  I'm pretty good at tracking how anyone over 25 listens to music these days, but when it comes to anyone younger than that–well, that's where it gets real murky real fast. And because the music habits of these young people will eventually have a big impact on everything from radio to music sales to music streaming and beyond, it's important that the industry figure out what these people are doing as far as music is concerned.
This means that there are endless studies on the matter. Piper Jaffray, the investment bank, recently released these findings on the listening habits of teens.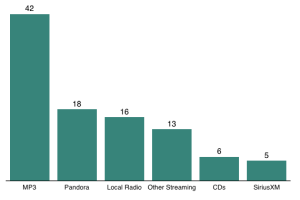 Looks pretty solid, right? But as Business Insider points out, this chart is very incomplete and raises more questions. Details here.