Let's Try Something from Japan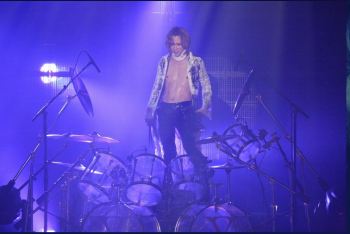 Over the weekend, I got an email from a fellow music nerd named Kouji. He wanted to know my opinion on X-Japan, a metal band that's celebrating its 30th anniversary in 2012. (Well, sort of. They broke up for about ten years in 1997 but they've been a going concern on-and-off since 1982.)
Kouji was specifically interested in my take on Yoshiki, a founding member of the group and their drummer, pianist and songwriter. Both X-Japan and Yoshiki are huge at home.
Yoshiki is esspecially revered. He inspired a comic book called Blood Red Dragon with Stan Lee and Todd McFarlane. He even, uh, a Hello Kitty chararacter called–what else?–YoshiKitty.
He also has a thing for nurses. That's a mystery.
Both he and X-Japan have quite the cult followings in North America and their fans on this side of the Pacific do what they can to spread the word.
I confessed that while I was aware of both X-Japan and Yoshiki, I didn't know as much as I probably should. Kouji graciously put together a primer in the form of links for anyone who might want to learn more.
I spent part of Sunday checking things out and I discovered some pretty cool things. If you're at all into metal (like me) and modern Japanese culture (also like me), then set aside some time to check out the following links.
Blood Red Dragon footage from ComicCon
X-Japan's "Art of Life" (video)