Liam and Noel to Reunite! (Well, Kind Of)
For the first time since their 2009 bust-up in Paris led to the end of Oasis, Liam and Noel Gallagher will get back together next week.  But it's not what you think.
Under penalty of an ass-whuppin' from their mother Peggy, both sons have been ordered to attend a family wedding of some sort in Ireland.
Neither brother wants to go and everyone is expecting things to be very awkward at the K Club in County Kildare, but Mom has spoken. She has made it clear that she wants no drama from her boys.  In fact, she thinks this might be the thing that starts them towards some kind of reconciliation.
We'll see, won't we?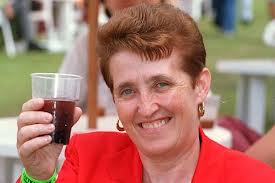 (Via AlternativeNation.net)