Like Metal? Then Get to Know Wacken
[More metal coverage from resident metalhead, Andrew Epstein. – AC]
Wacken Open Air: As Big As The Underground Gets
For the first time in eight years I'll be missing Wacken Open Air, the largest heavy metal festival in the world. Wacken itself is a tiny village of fewer than 2,000 people located about two hours north of Hamburg, Germany. But every summer at the end of July they are inundated by over 80,000 headbangers over four days. The vast majority of the village takes it in stride with many of the residents running businesses out of their homes during the festival.
Since my first trip to Wacken in 2007 I've at times been criticized for attending, usually by someone who says that the festival has grown "too big", with more youthful modern sounding bands playing side-by-side with the masters. The problem with that view is that while heavy metal exists in an underground state, it's also extremely inviting. Like horror films the music offers a more enhanced diversion than average entertainment, and that attracts an eclectic group of people.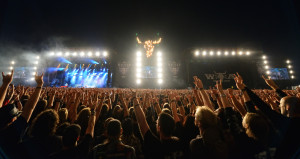 Despite that, for a subculture of outsiders it can sometimes be incredibly judgmental. While some may be born knee-deep in nostalgia, most young metal fans cut their teeth with more popular acts. Bands like Trivium or Avenged Sevenfold who play a more accessible version of their metal forefathers are essential to the genre's growth. The idea that everything within heavy metal could somehow be perfectly underground is ridiculous. It's too damn big. The ideas are big, the music sounds big, and whether they're high-pitched and melodic or extreme and guttural, the vocals sound big.
It's just impossible for there not to be bands that become well-know just by sheer numbers. Especially within a genre that elicits such passion. These bands are often regarded as somehow more accessible. The latest Arch Enemy album is extremely melodic and catchy, that is if you're into extreme vocals. Some fans seem to be out of phase with the notion that even at its most poppy, extreme metal doesn't jive with most other audiences. Accessibility is not a guarantee of success in metal either. Listening to Mayhem's "Live In Leipzig" (which, if you don't know, sounds like the band are zombies performing to a zombie audience inside a crypt), it's hard to believe that they've now played the Wacken "Black Stage" in broad daylight.
If there's one thing I can't stand in the world of heavy metal it's any illusion of exclusivity. Metal by nature is nothing but inclusive. It's a clubhouse with the door eternally open. Yes the music may feel like it belongs to you, but you have no control over it. It will reach out to whomever it wants. The worst thing to do in any subculture is to reject someone because they've just discovered it.
That's the main reason I've continued to go Wacken time and time again. However this year as the festival celebrates its 25th anniversary, it will be without my presence. I can't complain. Most heavy music fans in the world would do a number of ridiculous things to even attend once. I will simply have to sit back and be satisfied that a whole new group of people from around the world will attend Wacken for the first time this year, and feel as excited and accepted as I did nearly eight years ago.
Wacken Open Air runs July 31st – August 2nd. Check out the full line-up at the official site, and have a listen to my interview from last year's festivities with Ihsahn, frontman of Norway's Emperor, who are headlining this year to celebrate the 20th anniversary of their album In The Nightside Eclipse.