London, Ontario: Working to Create a Diverse Music Culture and Industry
Over the summer of 2016 the London Music Office conducted a census that looked back at the music sector of the previous year. With results gathered from 650 London, Ontario residents, the census offers insight into the local music industry.
Just like the rest of Canada, music fans in London listen to a wide variety of music genres. London Music Census categorized music fans into three groups: classical, popular, and traditional folk. With a nearly 50-50 split of male and female fans, the city has a strong gender diversity among its music fans. Furthermore, the primary market is aimed at millennials in the 20-34 age bracket, accounting for 48% of the fans surveyed.
Thanks to the University of Western Ontario, Fanshawe College, and other institutions in the city, London has a massive population of post-secondary students, with 875 of those students specifically studying music and the music business.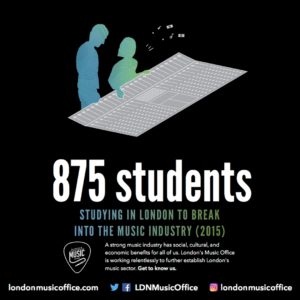 The census also explored music venues in the city to get an understanding of the current state of London's live music scene. The first thing the census discovered is the longevity of the city's scene. Less than 20% of venues have been in operation for less than six years. With over half of the available venues being bars or restaurants, 10.2% are concert halls, and the remaining "other" category, London has a wide range of venues for all types of musicians to perform at.
The range of cost for live shows in the city allowed for a wide range of budgets. According to the census, in 2015, 32% of venues offered free admission and 36% had door admission costs. The amount of live shows is also quite impressive: a total of 4620 live shows occurred in 2015.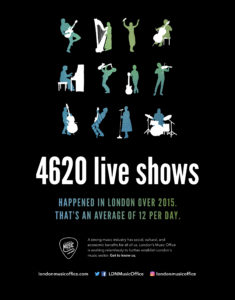 Perhaps one of the most vital parts of the census, the London Music Census also conducted a musicians survey. Perhaps unsurprisingly, most of the musicians surveyed were between 20-34 years old and performed popular genres including: R&B, roots, country, rock, pop, alternative, jazz, folk, EDM, indie, punk, or metal. The musicians also have less gender diversity than the fans, with 83% identifying as male.
The musicians play a mix of original songs and covers. Nearly half report playing exclusively original music, a third play a combination of original and covers, and only 10.7% play entirely covers. These original songs pay off, too. With SOCAN licensing, musicians' original songs can give them additional revenue. London song writers and publishers collected $7 million in total through royalties.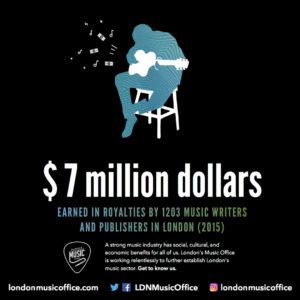 If you're interested in reading more about the London Music Survey, check out the London Music Office site for the interesting and informative articles by Cory Crossman.