Looking Back 40 Years Ago at the Founding of U2
It was 40 years ago this month that a notice appeared on a bulletin board at Mount Temple school in Dublin asking if anyone was interested in forming a band. The poster, one Larry Mullen Jr., invited prospective players to show up in his parents' kitchen. Three of the people who appeared would join him in a band that that would eventually be called U2.
U2Songs.com is all over this anniversary and has published some great material about the group's earliest days. Here's a taste.
"We don't want to stay in the past too long", says Bono. "…But I'm told, if you don't visit at all, you're condemned to be there forever…", says also Bono.
And he's right. On both accounts.
Being together for 40 years would be a massive achievement for any other band.
For U2, a band to break out of Ireland at age 4, be discovered by about a billion people at the same time at age 9, and be inducted into the Rock & Roll Hall Of Fame at age 29, your 40th is way too young to be stuck in the past.
For U2 fans though, that's a whole different story. Growing up with this band, being part of their life by letting them be a part of yours, a 40 year relationship is titanic.
Then, there's another aspect, that makes #U240 special. It's the people that didn't make it to the birthday party this year, and need to be remembered.
Rev Jack Heaslip comes to mind.
Larry Mullen Sr comes to mind.
Dennis Sheehan comes to mind.
Garvin Evans comes to mind.
All family, to the band, and by extension, all of us. After all, it is a family business, no matter what way you look at it.
Many people are fascinated by the story of the Big Bang. We are also interested in the story before the singularity. The universe that had to implode, and bleed into a brand new one.
There was a time before the Lypton Village, before Paul McGuinness, before Dave Fanning and U2-Three. Bono was Paul, The Edge was David. There was a place where the first molecules bonded, to emit those first sparks of light. That place was called the Mount Temple Comprehensive School, and without it, U2 would not be here to celebrate its 40th today.
Towards the end of each school year, the pupils would publish a magazine. 2 of those magazines, from school years 1976-77 and '77-78 make up the earliest items in my U2 collection.
Alison Stewart, Paul Hewson, David Evans, Adam Clayton, as well as Larry Mullen Jr's new band, "Feedback", later called "The Hype", are all featured.
We reached out to Neil McCormick, and Frank Kearns, two of the pupils closely tied to that era.
Neil is Chief Music Critic for The Daily Telegraph. Most U2 fans will know him from the "I Was Bono's Doppelganger/Killing Bono" book, as well as his contributions in "U2 by U2".
Frank owns Ireland's first ever Rockschool, was in Cactus World News, and recently released "Speed Of The Stars" with The Church's Steve Kilbey. Frank used to jam with Larry, before he put up that infamous note on the school message board. That was before he met Adam, and learned what "jam" meant.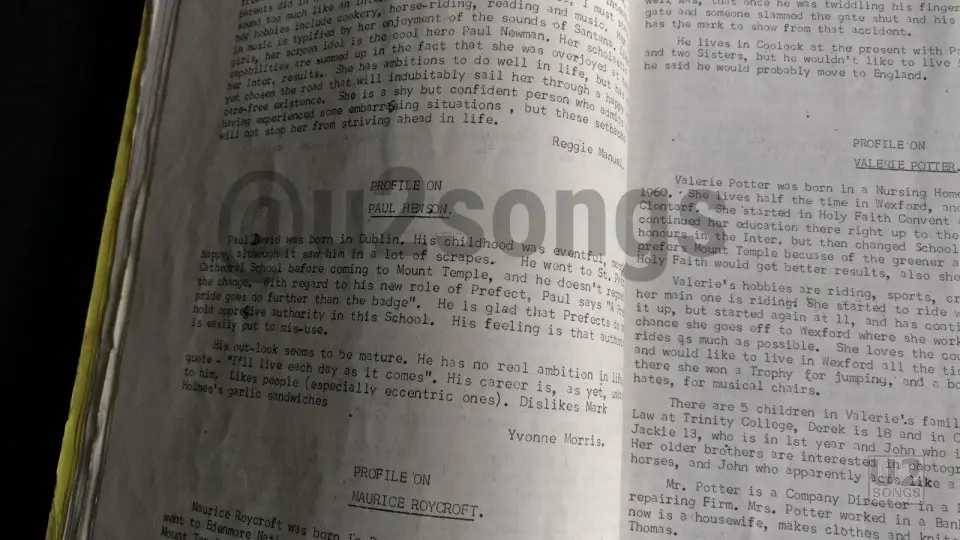 Keep reading. Thanks to Aaron for the link.