Looking to Jam with Someone? This Website Pairs You with Other Musicians in a New Type of Social Network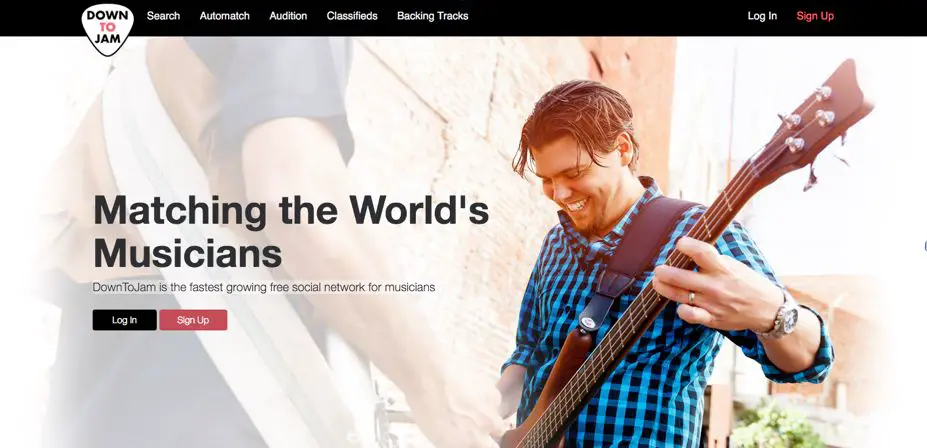 It's 2016. You're a musician seeking other musicians to start a new project, to fill a spot in your band, or simply to jam for fun. What do you do?
One option that many musicians have embraced is DownToJam.com, a free and innovative social network that helps connect musicians. These guys have been coming to my Music Technology events and are serious about their mission.
Their site doesn't stop there.
"Early on, I asked my partners if they thought the formula that online dating sites use to match people could work with the global musician community," said Troy Fullerton, CEO & Co-founder of DownToJam. "And that's what we set out to prove."
And it's working. Musicians from over 30 countries have signed up for its free service, and thousands of musical matches have been made.
To be clear, DownToJam isn't a niche matchmaking site with the intent of establishing romantic relationships among its members. But it uses similar algorithms as dating sites to connect musicians who are most musically compatible. It achieves this in two ways.
First, the site scans your personal profile, which is comprised of information you enter that forms your musical persona. For example, it looks at the instruments you play, your skill level, your genre preferences, your goals (i.e. are you looking to jam for fun or are you looking to start up a touring band?), and so on.
Secondly, it looks at your answers to music-related questions found on the site's dashboard. The questions aim to get at your musical preferences, knowledge, and perspectives. For example, "Has illegal downloading destroyed the music industry?"
The matching algorithm automatically analyzes those answers and the information in each user's profile, and generates matching percentages that appear next to every musician on the site.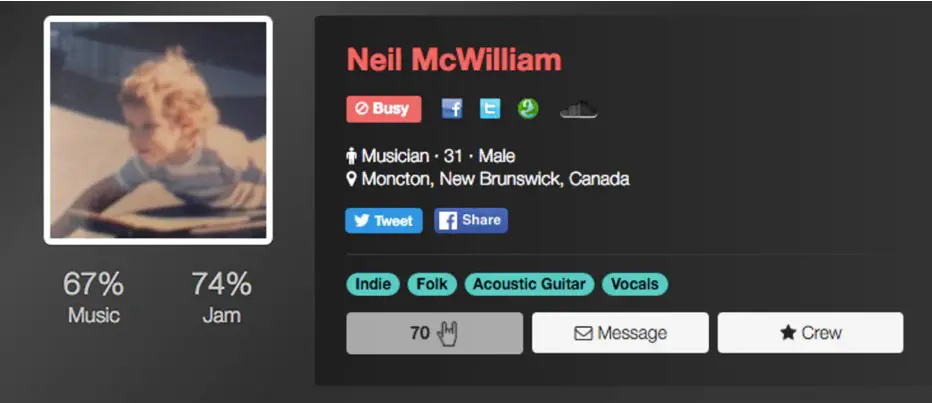 You might ask, 'If two musicians on the site are actually musically compatible but answered these questions so differently that the site tells them they're not a great match, why wouldn't they still try and connect?'
It's an excellent question and the short answer is that you can reach out to anyone on the site, regardless of the matching percentages. In fact, members can freely search the entire site to find musicians that meet various criteria and ignore the matching percentages altogether. But what the matching percentages try to do is provide a preview of how you might get along with that user, both on stage and off. Indeed you might start a successful project with a musician who is a low match, but the site's three owners believe you're more likely to achieve success with a musician who is a high match.
Take for example Toronto-based singer/songwriter Brianne Whyte. She was a near perfect match with a member of Urban Jive, a cover band looking to fill a void.
"They messaged me after seeing my profile, and following an exchange of messages through DownToJam where we talked about the band and what kind of commitment was required, I was invited to come out for an informal audition," Whyte said.
The audition was a success, and after only a few months of rehearsals, Urban Jive—with newest full-time member Whyte on vocals and strings—co-headlined a benefit show at a jampacked Mod Club in Toronto.
The main thing to remember when you set up a free account on DownToJam.com is that whether you buy into the matching concept or not, you're joining a robust community of musicians where you're easily able to message one another, buy and sell equipment, set up audition notices, and share your music. The music community is tight in many areas around the world, and the website is merging them virtually. From beginners to pros, there's someone for everyone on DownToJam.com.