Looking to Move to Los Angeles? Flea Is Selling His House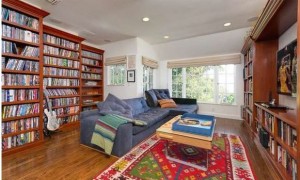 Flea's pile near Griffith Park above Hollywood (2630 North Vermont Avenue) is up for sale.  It's a Spanish-influenced home built in 1925 with four bedrooms, three-and-a-half baths, a formal living room, a formal dining room, hardwood and tile throughout, a carved fireplace and a "speakeasy."  It's the first time I've seen that in a real estate listing.
Outside is a newly remodeled two-bedroom guest house that comes with a wood-burning fireplace along with a big saltwater pool (natch), a spa, a fountain and an outdoor fireplace.  And let's not forget the forest of pine, palm and olive trees on the grounds.
Flea bought the place three years ago for $4.55 million.  It's now on the market for $6.8 million.  More details here.
(Via Loudwire)