Looking to figure out your place in the music business? Take a look at Viberate.
A while back, I came across Viberate, a new way for artists to both keep track of their music and to make vital connections within the music business on a global basis. The services and opportunities are many, but it's worth checking out if you're a musician seeking to make an impact.
Viberate is a dashboard that allows for pinpoint tracking of artists and songs, right down to social links and streaming stats. The analytics also radio airplay around the planet as well as chart performance. And because everything is in one place, gathering information is a snap.
Maybe the best thing to do is to start with this explainer video.
Got that? Now let's try something a little more specific.  Let's say you're at a label evaluating potential new talent to sign, or you want a better idea of who makes up your existing  fanbase. How are facts on your roster doing and are fans engaged with what you're releasing?
One of the capabilities of Viberate I really like is its ability to analyze Spotify performance. How are your songs performing? Are they making playlists? And if so, how are they doing on those playlists? Are you gaining or losing followers and listeners? Let's try a case study.
I've been following Måneskin, the Italian rock band, ever since they shocked everyone by winning the Eurovision Song Contest earlier this year. By using Viberate, I can track virtually everything about their winning song, "I Wann Be Your Slave" as well as every other song they've released.
When I last checked, I got this "Career Health" report, which is a summary of everything that they and their music is doing.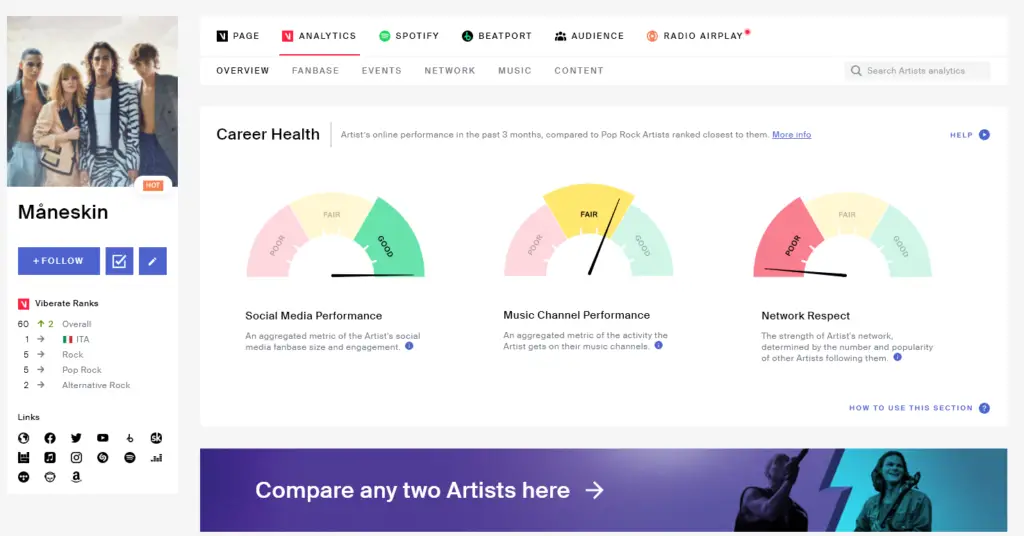 As you can see, the band is killing it when it comes to social media engagement. However, they need to do some work when it comes to engagement on Spotify, Apple Music, Deezer, and the other streaming music platforms. Where they're really lacking is with their networking. They need to get higher-ranking acts to follow them, which will funnel more audience their way. Some connections on Instagram and Facebook would really help. Good to know, right?
Clicking on the Spotify tab (at the top in the image above) reveals that they're killing it, ranking in the top 10 of pop-rock artists. They went from having about 750,000 followers a year ago to 3.6 million today. Scrolling further, we learn that Måneskin most often appears on playlists alongside Justin Bieber, Lil Nas X, Doja Cat, The Kid LAROI, and The Weeknd. I'd never have guessed. That tells you something about who is engaging with the band.
The Beatport tab tracks the band's popularity with the dance crowd. As a rock band, they're predictably not doing very well. In fact, they're pretty much flatline in this area. Not worry though, because that's not their target audience.
If we move to the audience tab, we learn that Italy has the most fans followed by the US and the UK. Most of them are between the ages of 18 and 24 with a bias towards women. Again, good to know when it comes to planning marking campaigns and tours.
Finally, let's check the radio tab. Måneskin is seeing a big spike in radio airplay with their biggest supporter being Indie 101 in Sweden, followed by Radio Stonata, an online station in Canada. We can also see that Toronto is the band's seventh-best market for radio airplay in the world.
As a radio guy, I've often been frustrated by the same-old, same-old data and chart information that everyone has been using for years. Viberate can help radio people uncover songs that flying under the radar are and are far, far more popular than you might realize (or are being told by labels or pluggers.) If I was still a music director, I'd be on Viberate all the time, checking and rechecking the popularity of every song (current and gold) on my station's playlist and searching for The Next Big Thing.
So far, so cool, right?
There's more, too. Once you see how you're doing around the world, you can use Viberate to help you book There's more, too. Once you see how you're doing around the world, you can use Viberate to help you locate areas where you have the most impact, and research local audiences and gig venue options. Or, as an event organizer–a concert promoter, say–you can use Viberate to source out artists for your events. Solid analytics means you'll have the best chance of selling more tickets.
Need to know what venues are available in a given area? Just enter a city and voila! Here's what I found for Reykjavik, Iceland. Each pin is a clickable link, too.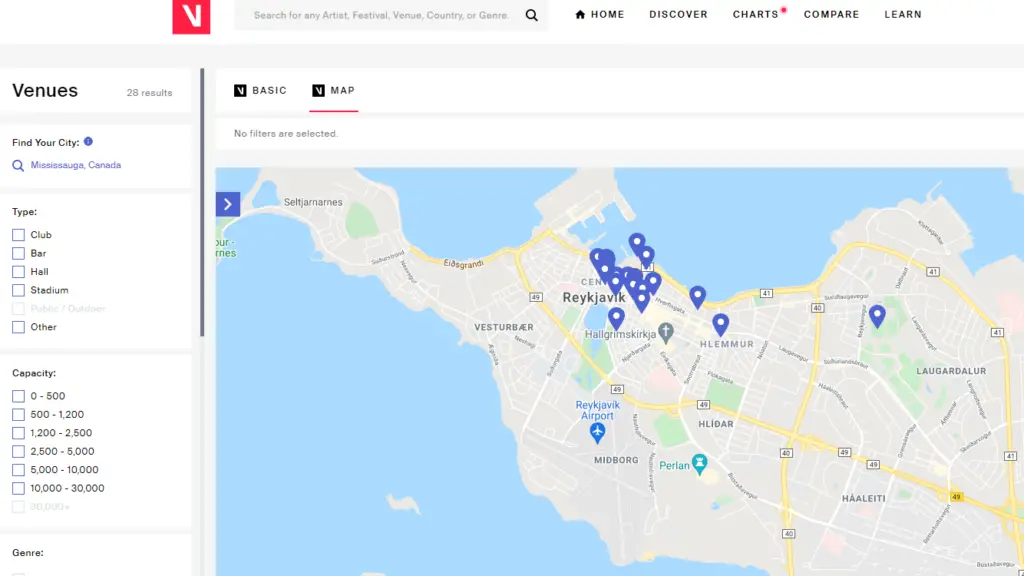 There's so much more that can be done with Viberate: explore different genres, discover music trends in more than 150 countries, compare the stats of two different artists, source out festivals–it just goes on and on.
For example, I was poking around Tragically Hip stats and learned that, at the time of writing, the most-streamed song on Spotify was "Bobcaygeon" with 136,800 streams followed by "Ahead by a Century" with 127,300. Exactly 366 radio stations in 30 countries played 241 songs 52,300 times over the last three months. And the town recorded as having the most spins was–wait for it–Tillsonburg, Ontario. That's the HQ of 104.5 HD2 Hipz FM, an online radio station dedicated to just The Hip, which has played The Hip 21,100 times in the last 90 days. When it comes to terrestrial radio, 97.7 HTZ-FM/St. Catharines is number one, having played The Hip 891 times in the last three months.
What else did I learn about The Hip? Next to Canada and the US, their biggest radio territory right now is Brazil. Meanwhile, they stream a lot of Hip in Germany. The Hip shares the most playlists with Blue Rodeo, Sam Roberts, and Big Wreck. The band is also on at least 281 active playlists, 150 of which have at least 1,000 followers. The most popular of all Hip-include playlists is one called Rock Your Block with 132,900 followers. 
See what I mean? As of today, there are more than 500,000 artists, 500,000 events, more than 100,000 venues, and 24,000 radio stations in the Viberate database. 
If you're intrigued, test their platform with all the insights you'll need for free.
"This post is brought to you by Viberate."