How Loud Is Loud Enough When It Comes to Concerts?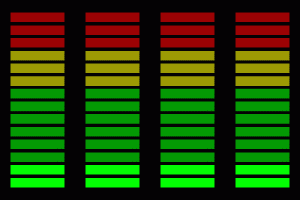 I'm of the faction of concert-goers who believes that it's not necessary to make an audience's ears bleed to put on a good show.  Some of the best gigs I've attended involved an emphasis of clarity over volume.  I also hate having to bring my own ear protection–and that feeling I get in my head if I forget to bring it.
Why do bands feel that they have to turn everything up to 11?  How loud is loud enough?
Audio Pro International, a site devoted to, well, audio professionals, has asked that question.
A simple enough question but the answer is anything but simple. How can we truly judge whether our live mixes are loud enough? What exactly is loud enough?Going to a live concert is a visceral shared experience. As the audience we often seek to put ourselves inside the music while we commune as directly as possible with the musicians. As FOH engineers we play a key role in delivering a pleasing and immersive concert experience so getting the volume right is a key component. Modern sound systems are capable of producing clearer and louder sound than ever before but does that mean it should be as loud as the sound system will permit or should we be more aware of the potential damage loud sound can cause and mix more responsibly?