M for Montreal 2011, Day 3: Cosmicalicious. I Think.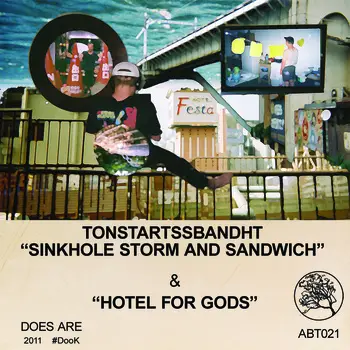 I'm not sure if reverb is a friend or the enemy.  Over the last couple of years, a lot of bands from Fleet Floxes to Washed Out to Neon Indian have used waves of reverb to create some pretty exciting stuff.  But how much reverb is too much?  Or is there such thing?
I'm still not sure what to make of Tonstartssbandht, a Montreal/NYC outfit who started their set with an intricate a capella bit with loads of each, allowing all the voices and harmonies to overlap into something very intriciate and pretty.  After that, though, the guitars kicked in and things got cosmic really fast.
Spacey?  The slapback sent the audience out into the Kuiper Belt where they floated on waves of noise for a good half hour.  To be honest, I have no idea if Tonstartssbandht played one song or the alloted six.  The tsumani of noise just kept rolling and rolling and rolling.
Not that this is a bad thing, of course–if you know how to properly ingest it.  I wisely brought ear plugs so most of the extraneousness was filtered out allowing me to concentrate on what I was hearing.  But even then I wasn't entirely sure what was going on at times.
The crowd seemed to dig it, though.  There was a line of blissed out noiseniks lining the stage, bobbing their heads to a beat that didn't really exist.  At the end of the set, the band got a big cheer–and not a facetious one, either.
If you're feeling brave, check out Tonstartssbandht.  And be a lamb:  get back to me on the "how much is too much" question, would you?