Mali's Music Scene Being Destroyed by Extremists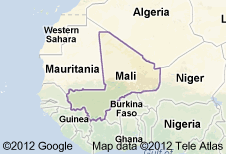 Over the years, a tremendous amount of excellent music has come out of Mali. Just ask Damon Albarn or Robert Plant or anyone else who has gone to Festival au Desert. Acts like Tinariwen have established fan bases around the work. Hell, Bono has performed with them.
But if you've been following the news, you'll know that large swaths of Mali are under attack from hardline Islamists, espcially in the north. And they hate music. I mean, really hate it–to the point of cutting out the tongues of people who dare sing.
Cutting. Out. Their. Tongues.
From the Washington Post:
"Music is against Islam," said Oumar Ould Hamaha, the military leader of the Movement for Oneness and Jihad in West Africa, one of the three extremist groups controlling the north. "Instead of singing, why don't they read the Koran? Why don't they subject themselves to God and pray? We are not only against the musicians in Mali. We are in a struggle against all the musicians of the world."