Meanwhile, Over at iTunes, Things Are Starting to Really Suck
If I'm not mistaken, Apple's iTunes store is still the largest retailer of music in this arm of the galaxy. However, things are starting to go rather pear-shaped for the company.
Why? According to TUAW and the Wall Street Journal, digital music sales are down up to 14% worldwide since the beginning of the year due largely to the rise of streaming music services. With so much music readily available and accessible–anywhere from free to $10 a month–it's obvious why people are starting to go cold on purchasing digital files for up to $1.29 each.  Lemme see:  ten tracks purchased through for $12.99 or access to 25 MILLION tracks for $10? Which one is the better deal?
On the surface, it looks like streaming is. But hold on.  Believe it or not, the average person–and if you're reading this, you probably don't qualify as "average"–spends between $35 and $60 a year on music purchases. Not a month. A year. And that includes all formats: digital, CD, vinyl.
This means that a $10/month subscription to something like Rdio or Spotify requires a financial outlay of at least twice of what they're paying now. And that doesn't include any financial issues surrounding data streaming plans on their mobile phones.  (Streaming to desktops really isn't an issue given the relatively high caps offered by providers.)
In conversations I've had with the various streaming services offered in Canada, they're rather concerned about Canadians' reluctance to blow their data allowances on music. We've been screwed so long on that front that we're terrified of receiving a $750 cell phone bill just because we put the new Foo Fighters album on "repeat." At this point, these companies have little control over this fear other than to advise customers that if they are worried about data costs that they turn the audio quality down to the lowest level. On cheap ear buds from a phone, the difference is minor, but it's still like saying that the solution is to listen to AM radio instead of FM.
But back to iTunes. Apple is a forward-looking company, so they knew that iTunes' dominance would one day come to an end. It's why they launched iTunes Radio and it's why they splashed out more than $3 billion for Beats.  And on that topic, expect Beats to somehow be integrated into iTunes Radio in the New Year, much like how Songza has been assimilated into Google Play Music.
And this isn't the only interesting thing happening in Apple's music world. After the company released its 4Q earnings last week, it was announced that Apple will no longer break out iTunes sales as part of their financials. Nor will they break out sales of iPods. Apple still sells a couple million iPods every year, but that number is completely insignificant in the grand scheme of things. The iPod touch hasn't been updated in forever and I doubt will see any more updates of the other models.  And, of course, they've killed the Classic already.
Think about it: what's the use of digital music player if no one is buying digital music to play?
Paste offers this really interesting requiem for the iPod here and one of the more interesting points in the article is the contention that the iPod sped up our consumption of music and therefore decreased our attention span for it.
The inherent habit of switching or skipping tracks was made easy by devices like the iPod. Ironically, the mass circulation of the iPod brought music back to its 1950s roots in some ways. All of a sudden, the music industry became more fixated on isolated singles again, rather than the album.
Yep. That's me.  Instead of listening through a whole album every single time, I'm impatiently skipping through it or I'm just listening to selected songs plucked from the iTunes store. If I paid for those songs, I feel guilty and stupid for not paying more attention to the songs–or I think "why am I paying $1.29 a track when I can just fire up Rdio or Spotify?" I still buy music, but not as much as I used to. And to be honest, most of what I buy is for professional use in my radio shows and elsewhere.
Investment bank Credit Suisse is watching the situation with the music industry. They believe that things won't bottom out until 2016 before it begins to see any meaningful revenue rebounds. And what will lead the way? Revenue from streaming. See?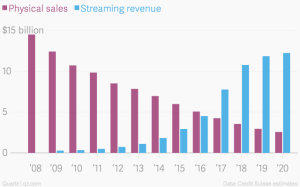 Full details on that Credit Suisse story are available at Quartz.
Like I said, Apple is all too aware of what' going on. It'll be interesting to see what they're going to do next.
By the way, I'm NOT a fan of v12 of iTunes. I want my sidebar back–but Apple is determined to take it away from me. And they've finally done it.