Meet the man who wrote the encyclopedia on Canadian music
For a small country, Canada has a music history and heritage that can fill an encyclopedia.
Jaimie Vernon has written that encyclopedia, in two different versions, over the past 30 years, dedicating his adult life to researching and preserving Canadian artists from the dawn of the vinyl age.
"It used to be two books at 500 pages each," Vernon said. But since it was arranged alphabetically, people would buy one half of the anthology and not both, leaving him with a bit of a storage and inventory problem.
Interested? There's a record show in Newmarket you might want to check out this weekend.
Vernon's history in music is a bit of a wandering path: He was in a band and started a label in the mid-1980s, hoping to someday be able to quit his job and focus on that full time. It didn't work. He was getting submissions from bands across the country, both independent artists and those who had faded from the spotlight but didn't have the funding to sign anyone.
In the meantime, those submissions were uncovering an embarrassment of riches, bands he'd never heard of before and ones he had. "It opened my eyes to what I could do with my label," he said. "There's a whole history of independent music here that's not getting covered by the mainstream media. I thought I should write a book. Well, duh – that was the dumbest idea."
He spent three years compiling information, filling two binders to bursting with typed notes. A visit to the National Archives in Ottawa showed 50,000 records in a national database.
At the same time, he started including notes about various bands in his band's newsletter, which grew into the magazine Great White Noise. Those notes are where the encyclopedia really starts, he said, but the work didn't begin in earnest until the late 1990s when he was hired by the Toronto Sun to create the online version of his life's work.
The paper had a version of an exhausting list of Canadian artists courtesy of a former radio DJ, but it wasn't as detailed or straightforward or nearly as wide-ranging.
"I told the editor their encyclopedia was bad. I offered to write a new one," Vernon said. They agreed on a price and, by July 1, 1998, he provided 1,000 artists on a new website affiliated with the Toronto Sun. By September, an additional 500 musicians were added.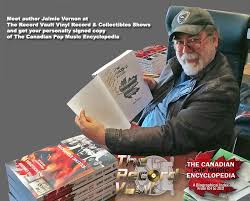 There were other sites with information about American musicians but nothing about Canadian music in those early years of the internet. Vernon would update the encyclopedia as new artists reached out to him or came across his desk.
While the online encyclopedia was under construction, he kept talking with bands and revived the label, putting out reissues for bands that were still touring. It was a good way for older bands to provide new material to fans as they toured and it worked really well, until stores like HMV and Tower Records began to go under.
Still, the research kept rolling in. Add in a few changes in working conditions and by 2008, he was able to dedicate himself solely to the encyclopedia, released in 2012.
Now he's releasing a condensed version of the encyclopedia, covering the vinyl heyday of 1949, the year the first 7" singles were released, until 1995, when the industry declared the vinyl record dead.
Bands who existed within that timeframe and longer have their most up-to-date information and releases listed; if a band was active toward the end of the window but never released their music on vinyl, they've been left out.
But fear not: he's in the process of putting all the stories online again, in a revamped website intended to be a living document that he hopes to launch this summer.
"I'm always getting people sending me stuff still," Vernon said. "I can update it overnight. It'll always be live. Nobody wants to wait a year for revisions." Plus, this new website will be more than just text; it'll include snippets of video and songs and photos, something he couldn't do before in either book or online form.
The book, he admits, is a touch on the dry side, but he has a very clear audience in mind.
"I put this version together specifically for record collectors," Vernon said. "For somebody who's old school and thinks 8-tracks were a great invention. Someone who wants a hard copy in front of you that you can read, sit and read for a few minutes at a time, for people who grew up as I did, with 60 years of rock 'n' roll."
He's found kindred spirits in Chris Jameson of the Record Vault and his business partner.
Jameson has an extensive background in music as well, including opening a record store in Toronto's East End for a very short time. Between May and November 2012, they were having a great time, bringing in musicians and preparing to bring in a coffee bar, until they decided to close up shop. The store transitioned into a storage unit, set up like a shop with the doors open for appointment shopping.
They dabbled in doing shows, first as vendors, then, in 2016, setting up events in Jameson's backyard. The first year, 2016, they decided to try one show, but when 300 people showed up for the first event, they had two more. In 2017, they had five shows. This year, there are eight.
Vernon came to one of the shows and they struck up a conversation. It's an easy pairing, an anthology of Canadian musicians and people looking for old records.
Vernon will be signing copies of the new book at eight shows across Ontario this year and Jameson is working to get the book placed in a handful of record stores as well. People who come to the shows can chat with Vernon and learn the more colourful tales that couldn't fit into the book and maybe find a few new artists to try out along the way.
The first show of the year is this Sunday, the Newmarket Vinyl Record & Collectibles Show. Vernon will have copies of the new book and Jameson will be welcoming shoppers and collectors alike.
Can't make it Sunday? There are seven other shows this year, all of which will feature Vernon's book:
Newmarket – March 24 (Newmarket Community Centre)
Scarborough – April 28
Peterborough – May 19
Port Perry – July 21
Scarborough – September 8
Newmarket – October 20
Peterborough – October 27
Etobicoke – December 8
More information on the book is available here; more information on The Record Vault is available here.