Megadeth Bassist Pines to be a Pastor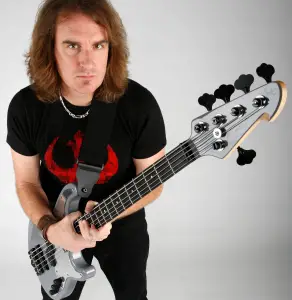 Metal is usually held up as one of Satan's favourite domains.  From Black Sabbath through to today's extreme black metal bands–the kind that burn down churches and engages in a little murder now and then–it's been assumed that the Dark Lord is pulling all the strings.
Yes, there's Christian metal–white metal (seriously!)–but it's not quite the same in, uh, spirit as the dark stuff.
But don't tell that to Megadeth bass player Dave Ellefson.  He's enrolled in a seminary studying to be a Lutheran pastor.  You'd think that this might not fit in with the band's way of life but it actually makes a considerable amount of sense.
Let's not forget that Dave Mustaine became born again after his serious battle with drug addiction. Megadeth has refused to play shows with bands like Rotting Christ.  The group also refuses to play certain songs from their past because of their anti-Christian values.
This is far from the first time that religion and rock have clashed within a band.  Randy Bachman left The Guess Who because of his Mormon beliefs.  U2 almost broke up before they really got started when they couldn't reconcile being in a rock band with their core Christian values.
The Megadeth situation is unique, though.  A serious metal band turning into a white metal group? Unusual, no?