Metallica Becomes the Biggest Band to Perform in…Antarctica?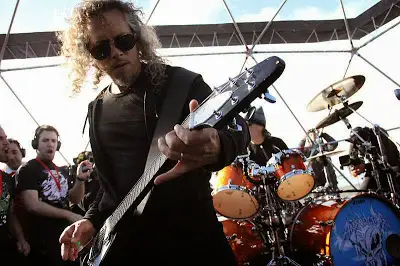 Remember when Metallica played that Molson-sponsored Polar Beach Party in Tuktoytaktuk, Northwest Terrorities? The date was September 3, 1995? (Setlist here, full video of the gig here.) For map freaks, the show happened at 69° 26′ 34″ north. Not quite the North Pole, but pretty damn close.
This past week, Metallica went to the other end of the earth. Their Michael Palin-esque journey took them to Carlini Station, an Argentine research outpost on King George Island. It was billed as the first gig in Antarctica–expcept that it wasn't, really.
Carlini Staiton is located at 62 degrees south, which is not even inside the Antarctic Circle. But I quibble. Playing such a hell-and-gone place is an amazing accomplishment.
And this, however, was NOT be the first-ever concert in Antarctica. On July 7, 2007, a group of scientists and climate researchers played a show under the name Nunatak. There were 17 people in the audience at Rhothera Research Station, which is at about 67 degrees south–which IS beyond the Antarctic Circle. They win.
Why did Metallica head to the bottom of the world? To play for a group of contest winners in a Coke Zero competition.
And although it was originally supposed to be an intimate acoustic performance, it turned out to be something much more frightening to the penguins.
If you're interested in reading more about Metallica's history-making gig, check out their Facebook page.