Metallica Fans Includes Monkeys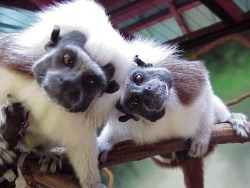 Lars! We torrented all your stuff!There was a small item in Saturday's Globe and Mail about how a certain species of monkey–cottontop tamarins–seemed to really dig Metallica.  I had to follow up.
It turns out that back in 2009, Charles Snowdon, a British psychology professor, subjected a group of cottontops to a variety of music:  Bach, Miles Davis, Led Zeppelin and, yes, Metallica.  The object was to find out if music really could soothe the savage breast–or, in this case, beast.
The results were a little strange.  While most of the music had little or no effect on the cottontops–they tended to ignore just about everything played to them–Metallica tunes actually calmed them down.  
Sadly, I wasn't able to find which Metallica songs they used.  Any idea?