Metric Know the Art of Doubt
If you were fortunate enough to have seen Smashing Pumpkins this summer on the Shiny and Oh So Bright tour – and were at the venue early enough – you were no doubt tantalized by new music from Metric. The Emily Haines-led quartet with Toronto roots didn't even wait until their support act commitments were fulfilled before officially announcing the details for highly-anticipated seventh album Art of Doubt.
Coming September 21st via Crystal Math and the band's own Metric Music International label, it features 12 tracks (listed in the short video below), three of which have already been released online: "Dark Saturday", "Dressed to Suppress", plus prolonged trip "Now or Never Now". Fan-filmed clips of other new songs "Love You Back", "Risk" and the title cut pretty much confirm they're reaching back to the risqué, revivalist post-punk that made us first fall in love with them back on 2003's Old World Underground, Where Are You Now?. Art of Doubt was recorded at Giant Studio, which guitarist Jimmy Shaw co-owns with Death from Above's Sebastien Grainger, with production duties handled by Justin Meldal-Johnsen, who's done work for Beck, Nine Inch Nails, and M83.
METRIC. THE NEW ALBUM. SEPTEMBER 21. #ARTOFDOUBT pic.twitter.com/1JMnMA2sCr

— M E T R I C (@Metric) September 5, 2018
Having performed in their hometown of T.O. three times in the same amount of months recently, you'll excuse Metric if they see a little more of the world while promoting their latest creation the rest of this year. Don't worry, I am confident we'll be hearing lots from Art of Doubt in 2019; look out Arkells, you're not the only Canadian group whose stock is rising. Take your NAFTA tariffs and shove 'em Trump!
And I knew I wasn't the only one who was reminded of The Simpsons when I saw Metric's admittedly simplistic album art courtesy of Justin Broadbent (who's also responsible for the above photo). Have to credit my expat friend Sarah Rix for expertly photoshopping Art of Doubt's cover onto "Can I Borrow a Feeling?" singer Kirk Van Houten's Pictionary easel. Wonder if Metric even know dignity when they see it?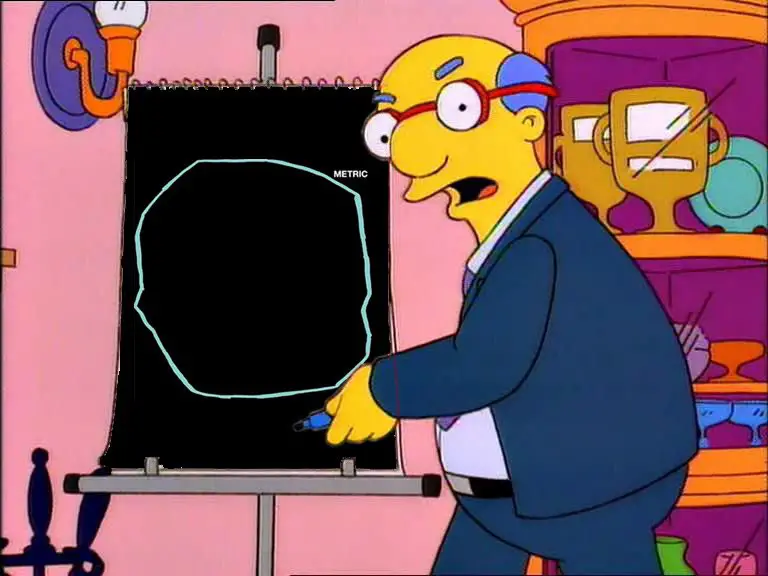 Pre-orders are ready to be taken at ILoveMetric.com.