Michael Jackson's long-lost right-hand glove is going up for auction.
One of Michael Jackson's well-known performance quirks was the glittery glove he wore on his right hand. Remember?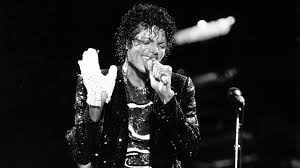 This is different from the LEFT-hand glove he wore during his performance of "Billie Jean" on the Motown 25th TV special.
What happened to the righty?
First, there was more than one pair of gloves. Second, Jackson like to alternate, wearing a glove on whatever hand suited him that day.
What we're really interested in here is the right-hand glove from the "Billie Jean"/Motown performance. It was stuck into storage lockers in Paris and then LA years ago and pretty much forgotten. Then, in 2003, the contest of the LA locker was sold for nonpayment of rent. Jeezus, wouldn't that have made a great episode of Storage Wars?
The glove was sold again to a private collector in 2010. And now, it's going up for auction, the first time the general public will have a shot at it.
Starting price? Just $15,000 USD. Details here.