How Millennials Consume Music in 2015 (Hint: They Won't Buy a Lot)
One of the many reasons music sales are dropping is because we have so many other things to occupy our time. These results of a study commissioned by Deloitte (reported by RAIN) predict how Millennials will consume music this year in among all the other media choices they enjoy.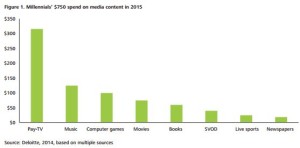 Note that in the US that the prediction is that the average Millennial will spend $125 on music. Of that, at least $100 will go to concert tickets, leaving just $25 A YEAR to devote to music purchases or streaming.