SURVEY RESULTS: Why Millennials Don't Go Clubbing
There was a period in 1995 where I DJed and/or hosted at three clubs a week. It nearly killed me, but demand was high and the money was good. In fact, I was had at least one club night a week for pretty much all the 90s. I never saw a single first-run episode of Seinfeld because I was out every Thursday night.
Just about every radio station had a live-to-air broadcast, too. At one point in the 00's when I was PD at 102.1 the Edge/Toronto, we were live from a club Thursday through Sunday. Every night was packed with regulars and ratings were solid.
Then something began to happen. It was almost imperceptible at first, but as the weeks went by, it was obvious that the crowds were getting smaller. And it wasn't just our alt-rock nights; standard dance clubs began to fail and close. Even as EDM got bigger, the number of dance clubs began to shrink as the new generation of clubbers–the crucial 18-24 demo–refused to show up.
And it wasn't just in Toronto. The UK, the centre of so much dance club culture since the 80s, has seen its dance club scene collapse. So many establishments have closed that this is being called a serious crisis for the British entertainment industry.
What's going on? Why is this generation of young people–the first in a very, very long time–not going out to dance in large numbers?  This isn't a matter of being judgemental; it's a serious question that involves demographics, social behavior and, believe it or not, technology. The Guardian took at look at this question.
There are a lot of reasons why Kaley, 23, doesn't go clubbing any more. For a start, it's too expensive, with taxis, door fees and alcohol to pay for. Plus the clubs, even in the capital, are disappointing: they shut at 2am, much earlier than venues in Berlin, and just when you start enjoying yourself it's lights on.
It's a similar story for Michelle, 24, who says she went out a lot at university but now she prefers chilling at home, and spends her cash on one-off big events such as festivals. "Everyone needs a night out, but it doesn't have to be in a club," she says.
These are just two stories sent to the Guardian in response to our survey asking millennials (those aged 18 to 35) about their relationship with a once treasured pastime: clubbing.
Studies suggest that today's young have fallen out of love with it, and in its latest trend report the Office of National Statistics dropped the price of nightclub admission from the list of common goods and services used to calculate inflation.
Hundreds of clubs have closed in recent years. The decline of nightclubbing has been attributed, in part, to the smoking ban, and to relaxed licensing laws that make bars and pubs more appealing. But it has also been suggested that many young people, like Michelle, now simply prefer a night in as opposed to a night out, meeting people via online dating platforms such as Tinder instead.
We received 196 responses to our call out on clubbing, with the vast majority (131) agreeing that a night in was now preferable to a night out. What's more, 70 people said generation Y was less interested in clubbing, compared with only 45 who said more. However, not everyone answered this question.
So, why are today's youth no longer keen on clubs? It's not necessarily what you might think: 98 respondents said that their generation was not less interested in face-to-face meet-ups because of the rise of social media (compared to 33 who said they were – again, not everyone responded to this question).
The rest of the article makes for some fascinating reading.
Last week, I launched a survey looking for some answers. Here are the results. This was the first question.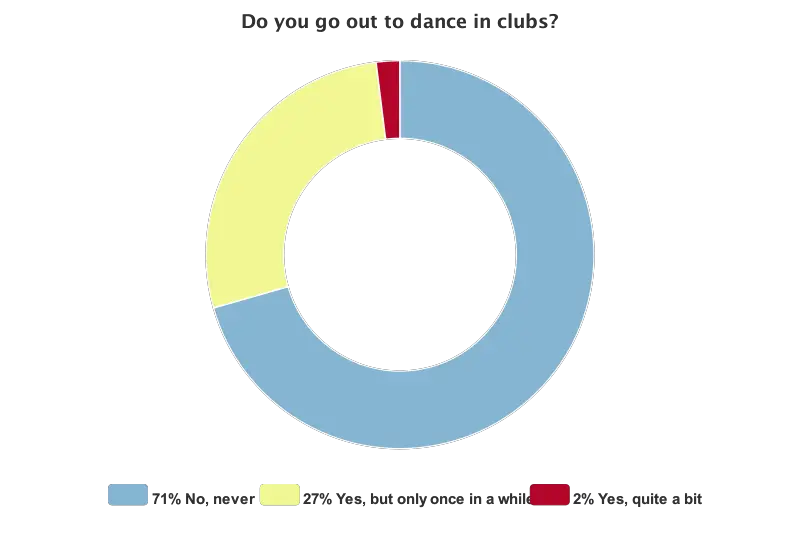 If their answer was "no," respondents were asked to answer a second question: