Ministry/Rigor Mortis Guitarist Dies Onstage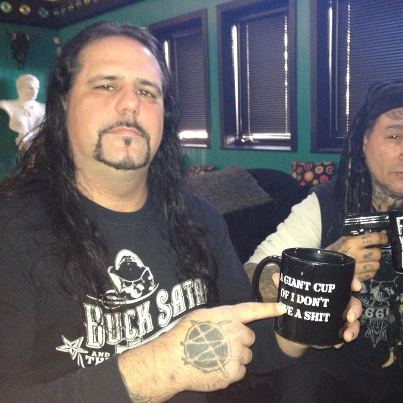 If you're a fan of Ministry, the Revolting Cocks or Rigor Mortis, you'll know the name Mike Scaccia. Mike died on Saturday night whilst performing with Rigor Mortis in Fort Worth.
He apparently had some kind of seizure during the band's set at a venue called The Rail Club. Early reports say it was a heart attack brought on by advanced heart disease.
Apparently, Mike was feeling unwell and asked that the lighting guy turn off the strobe lights. Then he collapsed with the seizure.
Ministry's Al Jourgensen posted this on his Facebook page:
I JUST LOST MY LIL' BROTHER AND MY BEST FRIEND – THE 13TH PLANET COMPOUND IS DEVASTATED,COMPLETELY IN SHOCK AND SHATTERED. MIKEY WAS NOT ONLY THE BEST GUITAR PLAYER IN THE HISTORY OF MUSIC, BUT HE WAS A CLOSE,… CLOSE, CLOSE PART OF OUR FAMILY – AND I JUST LOST A HUGE CHUNK OF MY HEART TODAY. OUR LIVES ARE FOREVER CHANGED. LIFE WITHOUT MIKEY IS LIKE ORANGE JUICE WITHOUT PULP – KIND OF BLAND. I HAVE NO WORDS TO EXPRESS WHAT THIS GUY MEANT TO ME, MY FAMILY, MY CAREER….EVERYTHING!
GET TO KNOW HIS LEAD PARTS – FOR THEY ARE IN THE PANTHEON OF MUSIC! UNFORTUNATELY, MOST OF YOU DIDN'T GET TO KNOW MIKEY'S SOUL -WHICH IS IN THE PANTHEON OF HUMANITY. HE IS MY HERO, MY FRIEND AND MY IDOL. MIKEY WAS ALWAYS BESIDE ME – MY RIGHT HAND MAN – THROUGH THICK AND THIN, THE GOOD, THE BAD, THE UGLY AND THE BEAUTIFUL.
REST IN PEACE MY BROTHER, MY FRIEND, MY HEART. PLEASE PRAY FOR MIKE SCACCIA AND JENNY, HIS WIFE AND THEIR CHILDREN, AND HIS FAMILY…..AL