The Modern Music Festival Was Born 50 Years Ago This Weekend
Fifty years ago, no one thought anyone would want to stand out in a field for three days listening to music. But then along came the Monterey Pop Festival outside San Francisco. After the weekend of June 16-19, 1967, nothing was the same ever again. Coachella, Lollapalooza, Glastonbury, Woodstock–the all descended from Eve of Monterey.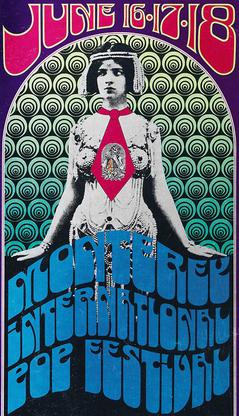 Monterey was the first modern rock festival. It was the Summer of Love and hippies from all across North American put flowers in their hair and headed to San Francisco. The sound system was totally inadequate–after all, no one had ever tried to amplify music for this many people over this large and area–but freaks didn't seem to mind. And looking back on the line-up–wow.
NPR has this look back.
In the 21st century, destination music festivals seem like a dime a dozen. But just 50 years ago, there was only one: the Monterey International Pop Festival, which featured more than 30 artists and bands playing over the course of three days in the summer of 1967.
Monterey Pop set the template for all the huge rock festivals that would follow — Woodstock, Coachella, Bonnaroo and all the rest — and its influence would spread even further via a documentary, Monterey Pop, that was helmed by D.A. Pennebaker and would set a gold standard for concert films.
The festival's star-studded lineup reads like a who's who of rock royalty, but four names rise to the top of any conversation about the festival. There was Janis Joplin. ("When she sang, all of her sang," Pennebaker remembers.) The Who left the audience in awe after Pete Townshend concluded "My Generation" by smashing his guitar. As for Otis Redding, "the power and the feeling in his voice was something that a lot of us had never seen before," photographer Henry Diltz says.