More Connected Car Info from CES That Radio People Need to Know About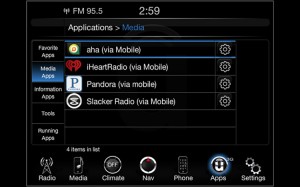 In addition to announcements from GM and Ford, Chrysler has come forward with news on their Uconnect Access via Mobile system.  Pandora has been added along with streamer Slacker Radio, web content aggregator Aha and iHeartRadio, Clear Channel's digital platform.
Speaking of Clear Channel, they've unveiled iHeartAuto, which is a made-for-driving radio app.  Clarion, Pioneer and Kenwood are all on board.  More from Motor Trend.
A speaking of Aha, they have new deals wtih Subaru, Porsche, Ford and Alpine.  The service connects drivers wtih web-based information and entertainment.  It offers more than 30,000 stations of audio programming, including AccuRdio, Rdio and Deezer.  Plus you can tune in audio materila from Popular Science, Men's Health, TV Guide and more.
Finally for today, there's Livio, which allows in-car FM listeners safe and secure interactive with FM broadcasters and sponsors directly from the dashboard using Bluetooth-connected smartphones.