More Growth in Listening to Online Radio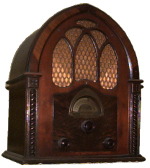 Okay, so these are American figures, but I'd bet that the numbers for Canada (where high-speed Internet penetration is higher) are the same if not higher. This is from today's RAIN (Radio and Internet Newsletter):
While most news sources focused on the report's dire predictions for print media ("Most print newspapers will be gone in five years"), kudos to Inside Radio for digging a little deeper for this tidbit: 22% of study respondents report "going on the Internet at least weekly" to "listen to online radio."
While that figure was outranked by online activities like general web-browsing, online banking, social networking, and gaming — it's interesting that 22% isalso the share of respondents who pay bills online. Also keep in mind that the "to listen to online radio" response was distinct from the "to download or listen to music" response (38%).
Here's another point the Annenberg summary made that should be of interest to broadcasters and webcasters: Over the next three years the tablet computer (e.g. Apple iPad) will become consumers' primary tool for most online/computing activities. Use of the trusty desktop will drop to 4-6% (laptops too!). "For the vast majority of Americans, the tablet will be the computer tool of choice by the middle of the decade, while the desktop PC fades away," the research summary reads. Food for thought.
Interesting, no? Read the rest of the study here.