More Halloween Song Recommendations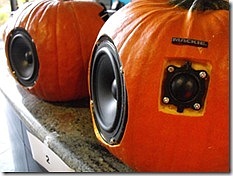 Yes, they work. They're from Mackie. Click the image to learn more.I live in a crazy neighbourhood. For some reason, people tart up their houses more for Halloween than they do for Christmas. Jesus, there's tombstones on every lawn and ghosts hanging from every tree. Us? We have pumpkin out front. That will be fine.
If you're the Halloween type, here's another list of songs that will enhance the mood when the little extortionists in disguise come to your door tonight with their parentally-approved threats. Thanks to Gilles LeBlanc for filtering out the Bobby "Boris" Pickett and Oingo Boingo.
Stuart Newman: "Darken Mood"
Album: Link here for more info
Mighty eerie instrumental from Brighton, England, with a just as spooky accompanying video. Seeing mellow acoustic artist Stuart Newman repeatedly sit down in a chair, conceivably working on a song, has a certain "descent into madness" quality to it.
Sounds like: This would honestly make a great musical bed for a B horror movie, the kind that only comes on late at night…
Link/Watch/Listen:
Ghoul: "Death in the Swamp"
Album: Transmission Zero
I have very little problem admitting that Ghoul is the type of band that gives me the heebie-jeebies. Wearing bloodstained burlap hoods in concert have that effect on me I guess. They're more cartoony than anything, though; I hear shades of the Da Da Da Da Da Da Da Da Batman theme on their 'Death in the Swamp.'
Sounds like: None of us should be surprised to hear that Ghoul are currently on tour with the unrivaled masters of schlock rock, Gwar. They're in Chicago Halloween night if anyone reading is interested!
Link/Listen/Watch:
The City and Horses: "Dum Dee Dum"
Album: We Will Never Be Discovered
Although indie pop can be terrifying for some, hopefully that's not the case for anyone as it relates to Brooklyn, New York's The City and Horses. But in this day and age, there's only one sure-fire way to stand out in a crowded marketplace, and that's with fornicating and badly dancing zombies!
Sounds like: 'Dum Dee Dum' singer Katie Costello has a twee-ish voice that's infinitely sweeter than those congealed molasses candies kids seem to collect en masse on Halloween.
Link/Listen/Watch: Go here
Dirty Ghosts: "Shout It In"
Album: 7-inch single
I had never heard about Dirty Ghosts before I downloaded a sampler from Last Gang Records following a Death from Above 1979 show. Apparently they're two Canadians who moved to San Francisco and hooked up with hip-hopper Aesop Rock on some frighteningly sick beats.
Sounds like: If your Halloween is more about getting down (dance-wise) than trick-or-treating, I suggest you grab Last Gang's 15-song sampler for yourself and add 'Shout It In' to your house party soundtrack. Like all the other candy kids get on Oct. 31st, it's FREE!
Link/Listen/Watch: Details here.