More Hassles with the Zoo-TV Disc in the Expensive Achtung Baby Reissue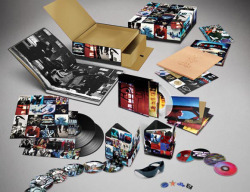 My spy tells me that things have not been going well for certain purchases of the uber-expensive edition of the Achtung Baby re-issue. I quote:
I called the number [to register concerns] and they said they'd send another disc out. I was told I'd see it in about a week and now it's been about three so I called back in this morning. The guy I spoke to said it's gone from bad to worse.
First the discs were bad, so Universal got replacement discs and started sending those out, and those discs had the wrong content on them. So they're waiting on EVEN MORE replacement discs and then have to check those to make sure that: A) they work and B) It has the right content.
And it's all during Christmas time so shipping is that much more overloaded and slower…
Anyone else having issues? Please share.