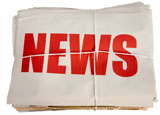 It's been a busy news day, what with the sad passing of Jack Layton and the stories coming out of Libya. Here's what's been happening in the world of music.
Blackberry's new music service will alllegedly cost $5 a month and allow users select and then share 50 songs with other people on the network. You won't be able to take the songs off the phone, but the sharing aspect of the service might be enough for some people. We'll see.
Montreal's Jason Bajada will release The Sound Your Life Makes on September 6. This is the follow-up to the desperately sad breakup album, Loveshit, in 2009. I've heard the record and not only is Jason in better spirits, but the record is quite good.
The stage collapse tragedy in Indianapolis has claimed a seventh victim.
The most-searched term term on Google this summer is "Amy Winehouse dead."
Another device-based music subscription service? Yep. It's called Boinc.
Off to hear Evanescene's new self-titled album later today. It'll finally be out October 11. Amy Lee is supposed to be at the event, too.