More on the Future of Infortainment in Cars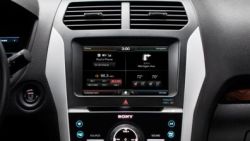 A big story in the automotive world this week is the update Ford plans to push to their MyFord Touch systems.
Yes, it's glitchy and there are issues with the interface, but the Touch system remains a landmark in auto infotainment.  
More than any other system currently on the market, it points towards the future. And despite the problems, customers are willing to overlook the problems and buy a Ford just to have this thing.
I maintain that once more auto manufacturers introduce similar systems (perhaps using the RIM-owned QNX software language, which GM and Toyota are working on), no one will ever want just an AM/FM/CD player ever again.  Radio will find itself competing with much cooler on-demand technologies in the environment that it has owned for decades:  the car.
So when will this happen?  I've been thinking long and hard about this.  Several things have to happen:
1.  Smart phones need to reach a critical mass in the marketplace.  People will become more and more dependent on their smart phones and expect to be able to use them anywhere, anytime.
2. Software interfaces must improve.  You must be able to accomplish on a dashboard stream exactly what you can do on your phone's screen.  And it must be easy to understand and use.  We're still a long way from that happening.
3.  Smart phones are iterating much faster than cars.  We're getting a new Android phone approximately every 49 seconds.   Cars come out just once a year.  At some point, there's going to have to be some kind of coordination.
But make no mistake:  always-connected cars ARE coming.  And one we get a taste of one, there's NO going back.
Are you listening, radio industry?  How are you going to adapt?