The BFG: Succeeds in Giant Proportions
Stars: Mark Rylance, Ruby Barnhill, Jemaine Clement, Bill Hader
Directed by: Steven Spielberg
Rated: PG
Opening Date: Friday July 1st, 2016
Roald Dahl's creative masterworks are part of uncountable childhoods. At least one of his stories, with their chicken scratch drawn cover art, have and will remain at the forefront of bedside bookshelves, and will continue to be the cause for ungodly amounts of late surcharges at elementary school. They were the gem of any scholastic book fair, and always remained nestled behind the textbooks of adventurous students during class lessons, much to the dismay of concerned teachers.
Throughout his colorful life, Dahl has captivated the love and laud, and the minds and hearts, of children the world over, dazzling them with lofty tales of giant peaches, chocolate factories, telekinetic jokesters, and gigantic dream weavers. The most latter in this non-exhaustive topic list, which would later become the premise that manifested into of Dahl's most famous works, The BFG, is no exception. Much to the giddy anticipation of Dahl's young and old fans alike, The BFG has followed suit with the rest of the stories in the aforementioned list and has received its very own remade film adaptation as well.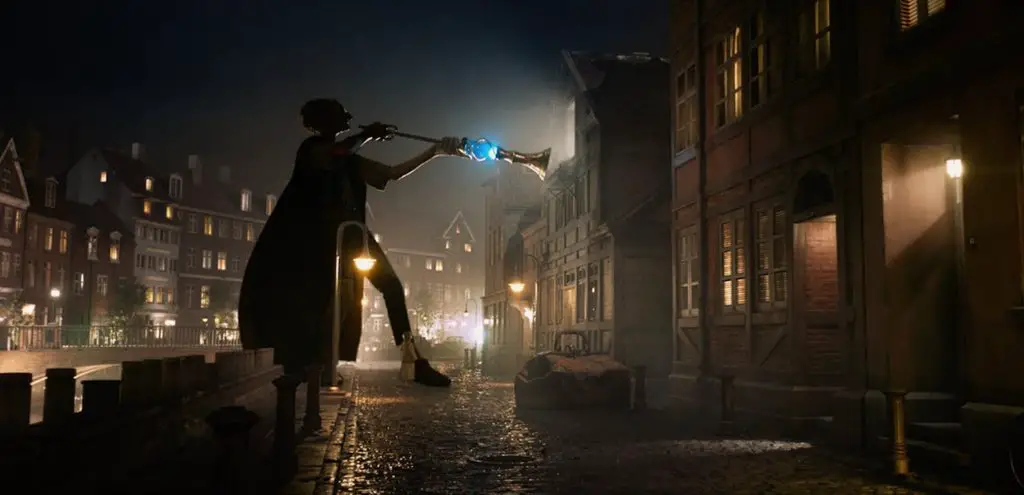 There was promise. They assembled all the right human beings to make yet another eclectic film that brought Dahl's words to life: a dash of fairy tale magic from Disney, a pinch of visual storytelling prowess from directorial heavyweight, Steven Spielberg, and a sprinkle of terrific, award winning cast members. It should come as no surprise to anyone that all these fantastic ingredients amalgamated into an elixir that went down like a delicious bottle of gas inducing Frobscottle. I won't gobblefunk around with words here when I say that The BFG is a spectacle and a story just as masterfully told on the corners of the cinema screen as it was glued to the spine of a book cover.
From a narrative standpoint, The BFG is a very simple story. It isn't riddled with countless plot devices, nail biting action sequences or riveting drama, but more than suffices for their absence with themes of the heart, friendship, loss and exploration. Insomnia suffering orphan, Sophie, is snatched by giant hands at the strike of the witching hour from her boogey man impervious covers, and is transported by the same cloaked, gargantuan statured individual into a mystical land where the rest of the varyingly sized, and varyingly friendly, species of giants roam. Together, the David and Goliath team of Sophie, and her harmless captor, the big friendly giant, join forces to be rid of the rest of the grotesquely named, canny-abal residents of Giant country.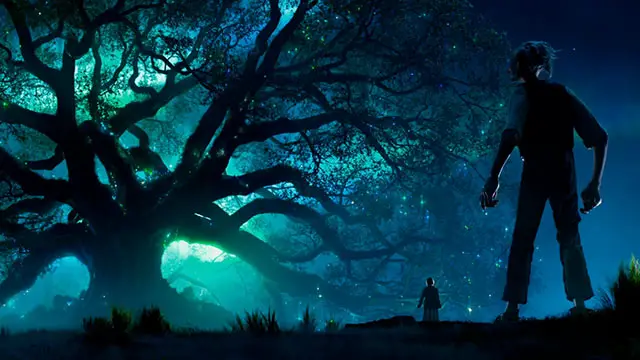 The BFG's little petty poo, and much desired delicacy of the gigantic gourmet's, Sophie (Ruby Barnhill), brings a darling breakout performance to the table, one that didn't deviate itself in a negative way from Rylance's. Barnhill was casted impeccably and managed to show some significant craft precision, which is quite a feat for an actress of such a tender age. Her perfect blend of intelligence, naïve spirited curiosity and dry English wit, as well as her courage and perseverance to save a world that is far grander and unforgiving in scope, left me pleasantly surprised with her spot on portrayal of a Dahlian main character.
In strong contrast to the rest of his kin, the BFG's benevolence and insistence to eat gross snozzcumbers instead of children, makes him the biggest giant of them all, regardless of the fact that he is towered over and belittled by his peers. Mark Rylance's natural whimsy made him the perfect choice to play the larger than life, slightly better half of our main characters. His delivery of the BFG's misguided, verbal and adjectival wordiness (aka Giantspeak) and his perpetually slurred voice, made him the symbolic representation of your happy go lucky, drunk uncle at a family gathering, except in the BFG's case, you never get fed up with hearing him speak after a while.
I did get tired of a few characters because of their ceaseless bullying at the expense of the humble BFG: the twofold wider and taller giant leader (Jemaine Clement) and his meat headed cronies. Their fake, London tough mannerisms and accents, endless boo-hoo whining, earth-shattering intrusions, and pathetic fears of rain will leave you questioning who the real runts are.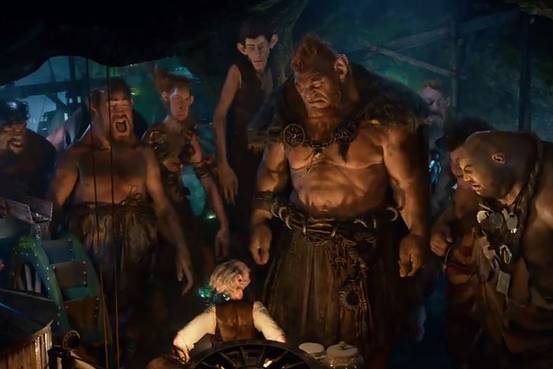 Keep in mind that none of these characters would have come to the fore like they did had it not been for the stunning visual effects used to breathe vitality into Dahl's vivid imagery. The stars aligned between Spielbergs and Dahl's depictions of setting, from the seedy, cobblestoned core of England, the otherworldly, yet terrestrial home of the giants, and the lavish Buckingham palace. Even the BFG himself, with his scraggly grey hair, his disheveled, hole infested clothing, his brass dream trumpet, and his wrinkled grin, couldn't have been captured more symmetrically.
The color pallets used in the film were astonishing, the jade hillsides, the midnight blues in dream country, and the deep, swirling hues of jarred dream essence all gave Hogwarts a run for its money in the magic department. Couple the effects with some fabulous cinematography and filming techniques, and the film developed into an all-encompassing visual treat.
The one issue I had with this film was that it was retold so masterfully that it maintained in its sometimes awkward, novel style of pacing. Authors have the freedom to tell their story in whatever way they wish a luxury that screenwriters are not often afforded with… or so I thought. The first act took off very quickly (within the first ten minutes), the second act felt a little stagnant, and the third felt as though it was wrapped up far too rapidly. I'm not necessarily complaining about the first two, because it allowed me to further engross myself in Dahl's world, but I think children, who are the intended audience for this film, will be itching to ask their parents "is it over yet?"
Aside from this issue, the BFG felt like a hand crafted, trumpet blown dream come true for viewers of all ages. A moralistic tale of injustice and elevation above adversity, the world depicted in this film is truly, as the trailers say, more giant than anyone could ever imagine. I give the BFG an 8.5 out of 10.