Movie Review: Pete's Dragon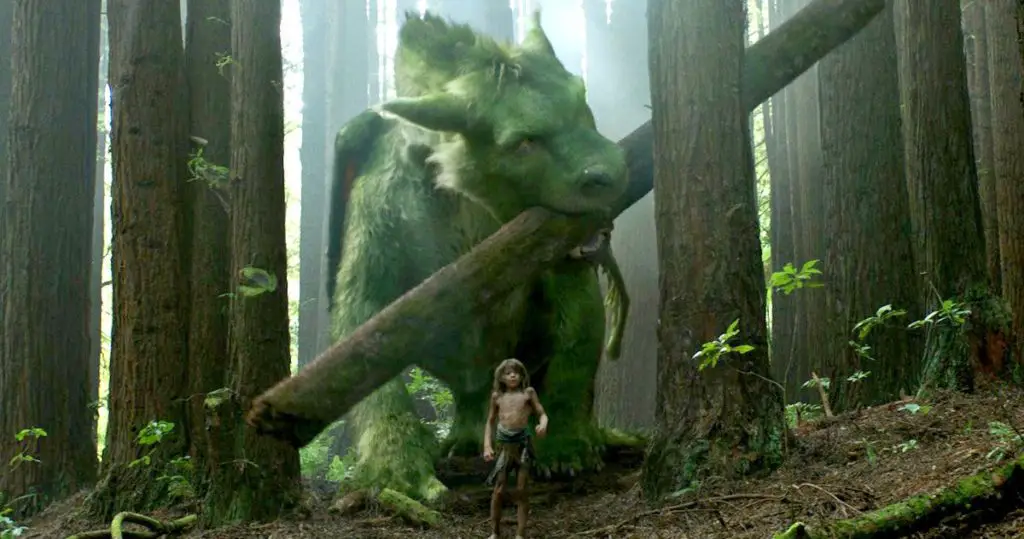 Stars: Bryce Dallas Howard, Oakes Fegley, Wes Bentley, Karl Urban
Directed by: David Lowery
Rated: G
Opening Date: Friday August 12th, 2016
Review by Cameron Allan
The popular colloquialism claims that dogs are a man's truest, best friend.  Full disclosure: I'm a proud dog person, and for all those who've had the pleasure of owning a dog at some point in their life, it is almost impossible to discredit the truth behind this statement. Their loyalty, personality, and practicality for human life have solidified their standing as the single greatest companion any person could ask for.
But why settle for a lame K-9, says Pete, our main character, when you can have a full on DRAGON instead. Think about it:they hit all the high notes of a dog's appearance and mannerisms; they're furry, dimwitted and dependent; AND as a bonus they can fly, breathe fire and turn invisible on a whim. Add in the fact that there's almost too much of them to love, and it becomes clear that dragons could be tenfold more of a best friend to man than a pooch could ever even dream of.
I hate to be the bearer of bad news to those who are now scouring the internet for dragon breeders, but all of us can't be as lucky as Pete and claim a domesticated dragon friend for our own. They are mythical creatures, people.
Yet after hearing about the gut wrenching circumstances in which the titular duo meets, you'll regret calling Pete so lucky after all.
After a deadly car accident claims the lives of both his parents, a now orphaned Pete is forced to aimlessly wander the forest in search of refuge from a group of salivating wolves. An unlikely giant savior emerges from the boreal brush and an inseparable bond is created between the young boy and this new dragon guardian, Elliot. The pair lives a meager yet peaceful existence away from the hustle and bustle of society for a total of six years until the encroaching forces of corporate America ravage the forest they call home for its lumber quota.
The desire for a peaceful, homeostatic environment doesn't just rest with Pete and Elliot however.  Forest ranger Grace Meacham (Bryce Dallas Howard) and her father (Robert Redford) are in a constant deadlock with Grace's oppositely minded significant other, Jack (Wes Bentley), and his brother, Gavin (Karl Urban), who both co-own the environmentally degrading lumber mill.
When Grace encounters Pete by chance along the chopped borders of the cultivated woodlands, she sets out to uncover the mystery of his disappearance and survival, all the while Gavin sets out on a knight's quest of XL game dragon hunting to prove the truth behind whisperings of the mythical beast's existence.
Our larger-than-life, graphically animated dragon absolutely commands the screen. He's able to convey so much raw emotion despite the fact that he is practically mute, only being able to grunt, roar and moan at varying pitches. His dog-like behavior, alongside his kind hearted and protective nature contrast heavily with his violent outbursts and his destructive potential.
Always cozied up to Elliot's side, or holding on for dear life on his back, Pete (Oakes Fegley) portrays himself as a hardened veteran of life despite the fact that he doesn't even know how long he's been alive. Much like his reptilian counterpart, Pete is a reserved boy who regardless of having few lines of dialogue is able to illustrate a ton more feeling with actions. A mere look, a cheeky smile, the odd howl and his nimble Tarzan-like movements entranced me in the believability of his character.
It's the dynamic between these two best buds that makes the film so sweet. They don't understand each other verbally but are always somehow able to interpret what the other is attempting to say. It certainly isn't the main premise. The orphan-finds-family-and-boy-loses-pet narrative are on full display. Some might find the nod to classic Disney storytelling charming while others might find it obnoxious. But everyone can agree that regardless of unoriginality, it's at the very least heartwarming.
The underlying themes of the importance of the nuclear family structure and the need for environmental stewardship aren't exactly the subtlest. The latter is mostly portrayed through Gavin, who is one of the film's major antagonistic characters. Without any clear motives for why he chose to be antagonistic in the first place, I didn't find the major dramatic arc in the film all that impactful.
Pete's Dragon is a success as far as remakes go, although for those who have seen the god-awful, musical predecessor, you'll understand that a statement like that carries little weight. It lacked that luster of magic and memorability that has become a golden standard in almost all Disney releases. You'll laugh a few times, reach the brink of tears near the end and probably even yawn somewhere in between, but cumulatively, Pete's Dragon didn't nearly fly as high as I expected it to. I give Pete's Dragon a 6.5 out of 10.