Movie Review – Popstar: Never Stop Stopping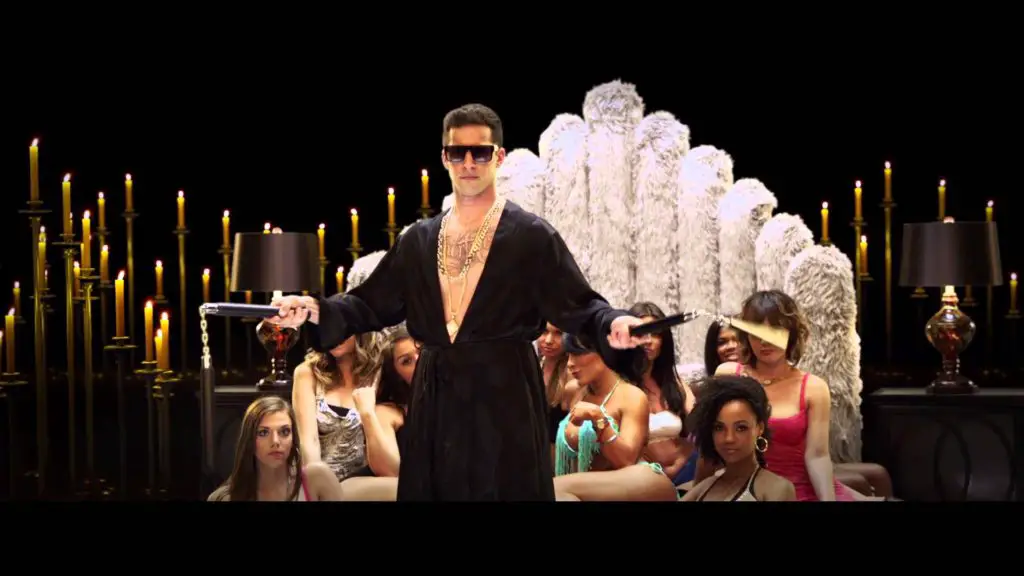 Call it a Spinal Tap for the pop star crowd. Cameron Allan tells us what he saw.
Popstar: Never Stop Never Stopping…Never Stops Impressing
Stars: Andy Samberg, Akiva Shaffer, Jorma Taccone, Tim Meadows, Sarah Silverman
Directed by: Akiva Shaffer, Jorma Taccone
Rated: R
Opening Date: Friday June 3rd, 2016    
Few are strangers to the Lonely Island, a band comprising of childhood best buds, Andy Samberg, Akiva Schaffer and Jorma Taccone. With the massive amount of comedic clout that these three amigos have managed to accumulate over the years (cf. "jizz in my pants" and "like a boss"), they're beloved by YouTube surfers and funny video forwarders everywhere.
Full disclosure: I'm a fan. You should know that before we go any further.After hearing
After hearing about an entire film being centered around them and their catchy misadventures, my immediate excitement was tempered by the thought that Popstar might be too much of a good thing. Would my inner fanboy-ism translate, especially with a whole other 83 minutes of additional viewing time to spend with the group. Luckily enough, I found that they did not overstay their welcome in the slightest, and their transition from the very small screen to the big silver one was graceful.
Look, it's about time that pop music phenoms received a heaping helping of good old-fashioned Sambergian lampooning. Popstar: Never Stop Never Stopping gives real-life stars like Katy Perry and Justin Bieber some justified skewering.
The film chronicles the Icarus-like rise and fall of obliviously horrible lyricist, excessively stylish, vocalist boy wonder, Conner4real (Samberg)–the self-proclaimed dopest of the dope–who, after pulling a Beyonce-esque separation from his childhood garage boy band in order to pursue a solo career, experiences a slow decline into the depths of obscurity.
This is Samberg's most effortlessly funny, headlining performance yet. Okay, so maybe that isn't much when you look at his filmography. But trust me: watching him slavishly enjoy his reign as the prince of pop superstardom and then later, attempting to salvage some good out of an obviously downwardly spiraling career will make you shed tears of laughter, although in a mildly sad way.
The managerial superego to Conner's hyper-inflated id, Harry (Tim Meadows) acts as the voice of reason for Conner throughout the film–although at times he does steer our hero toward some less than admirable sellout strategies.
Conner's stupidly-helmeted (Daft Punk, anyone?) play-button-pressing DJ (Jorma Taccone) plays the fantastic friend and partner, albeit one who lacks any sort of self-respect and confidence. He is content with staying out of the limelight and will do anything to see to it that Conner is happy and successful. In fact, he's the only character who approaches Conner from an honest and different perspective rather than disingenuousness or utter hatred.
The main antagonist is Conner's lyricist and ex-Style Boyz crew member, Lawrence (Akiva Schaffer) who has embraced a rural lifestyle. His ignorant and falsely serious insistence that his new (and frightening) passion for wood crafting and his abandonment of city life were the greatest decisions he's made will leave you shaking your head in disagreement.
This relatively straightforward narrative (with plenty of randomness, cameo appearances and a nice poke at TMZ) is framed within a larger spectrum of an egotistical documentary where plenty of musical icons provide tasteful commentary on Conner's career throughout its rise and fall.  Some worked but others felt a tad forced and unwarranted.
As unsophisticatedly funny as all this may be–this is not Citizen Kane material, after all–everything culminates into what felt like a film that was desperately attempting to figure out what it wanted to be. Is this a feature disguised as a documentary? A documentary disguised as a feature? Or is it a sketch comedy act trying to be both? This didn't overly detract from things but it does feel strange to witness these three distinct segments bump elbows together–and at times in a very sloppy way.
Overall, Popstar: Never Stop Never Stopping is a satirical triumph. All of the sneakily-inputted pop cultural references and inside jokes didn't end up sounding like off-putting mean-spirited finger pointing but instead manifested as a whole into an all-encompassing commentary on the nature of music as both a journalistic avenue and an entertainment medium. Although his second album, riddled with hysterical tracks on topics like gay rights, Bin Laden assassinations, and th- prefixes, may have garnered Conner nothing but a poop emoji, his documentary on the other hand, is more than deserving of a solid 8 out of 10.