Mr. Spock Is Dead: RIP Leonard Nimoy. Here's a Selection of His Greatest Musical Hits
He lived long and prospered.
But even though he gave up smoking thirty years ago, Leonard Nimoy suffered from COPD. That's what killed him today (February 27) at his home in Bel Air, California.
He's dead, Jim. And there's no Genesis planet in this universe. And today's announcement supersedes Wednesday's death hoax. Here's his final tweet.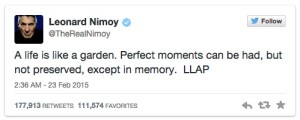 Nimoy joins original series colleagues DeForest Kelly and James Doohan in the Great Beyond.
William Shatner had this to say about his old friend. Even Barack Obama made a statement.
His New York Times obituary points out that Nimoy was more than just Mr. Spock. He had all sorts of artistic pursuits, including music. The picture above shows him jamming with Adam West. Yes, Mr. Spock once rocked out with Batman.
Here's a selection of some of Mr. Spock's greatest hits.
Finally, here are twelve instances where Nimoy voice went beyond just Spock.