That Was the Muddiest Glastonbury Festival EVER!
"You've got to go to Glastonbury," the veteran festival punter said to me. "There's nothing like it–especially when it rains and the field turns to mud."
This is exactly why I never want to go to Worthy Farm. I don't get along with mud. My trip to Woodstock in 1994–a near humanitarian disaster cured me of any notions I had of spending a weekend at a music festival with 100,000-plus other souls.
Call me whatever names you want, but you'll never, ever get me to repeat that experience, hence my revulsion at the prospect of standing/sitting/laying in a cow pasture with a bunch of drunken British people.
Glastonbury can be notoriously rainy and muddy when the solstice showers park over southern England. Stories about the mud are legendary–and 2016 will go down as the craziest of all. We're talking Games of Thrones-level sludge.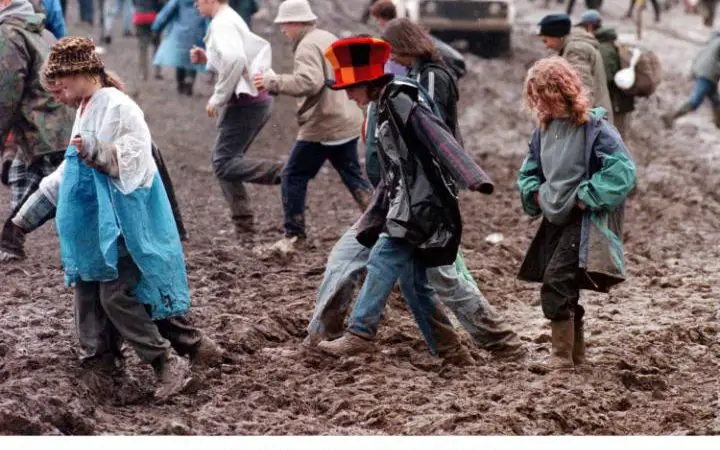 From The Guardian:
Glastonbury has suffered the worst rain and mud since the festival began 46 years ago, consuming the region's entire supply of woodchip in the process.
Founder Michael Eavis said he will not consider moving the festival to later in the summer to avoid the wet, and blamed the torrential rain that hit the site in the weeks before the gates opened on global warming.
But he said he was amazed at how the 180,000 festivalgoers remained cheery despite the weather. "I drove round the whole site last night. It took right up until 4.30am and the sun was up and there was just thousands of happy people with smiles on their faces despite the adverse conditions. It is extraordinary. I do not know how they do it, but they love it so much," he said.
"Every single bit of woodchip in the south of England, all of it is here over 1,000 acres. I've never seen mud like it in the whole life. This is worse than 1997," he said, referring to the previously crowned "year of the mud". "In all 46 years, it hasn't been as bad as this," he said.
Read all the details here. If you need pictures, go here.
With more rain on the way, many of the 180,000 attendees bailed early, hoping to get home for a hot shower or bath. But then they got stuck in the mud.