Music App Promises to Boost Your Brain Power by 400%. Really?
Actually, it's all about attention span with [email protected].  They claim that its instrumental music will help you study more efficiently and work smarter."  How?  By distracting us from the, er, distracting elements in our surrounding environment.  Then they go into something about finding a sweet spot between laser focus and daydreaming.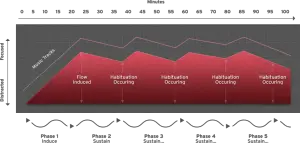 "It works in the background by subtly soothing the part of your brain, the limbic system, that is always on the lookout for danger, food, sex or shiny things."
Uh-huh.  Sure.
Sounds great, but as someone who spends a good amount of time to working while listening to music, I'm a little skeptical.  Turns out so is Wired.  I'm kinda with them on this.  Then again, your mileage may vary.