Music Industry Math: The 6:1 Ratio
Mark Mulligan of Music Industry Blog points out something rather interesting.
One of the many things that the digital revolution has done to the music industry is to create and accentuate a number of imbalances. Imbalances that will either change, become the foundations of the next era of the music business, or both. In fact there are three key areas where, coincidentally, the lesser party is 6 times smaller than the other: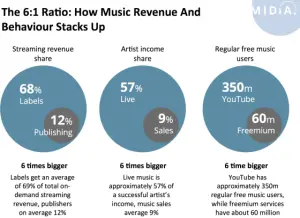 For a full explanation of the 6:1 ratio, go here.