What Does Music Look Like to Someone with Synesthesia? This.
I'm fascinated by synethesia, the neurological condition (ability?) whereby the senses overlap in interesting ways. For example, Toronto's Lonely Vagabond perceives colours and shapes whenever he hears music. For example, when the Stone Roses "I Am the Resurrection" plays, his sees this.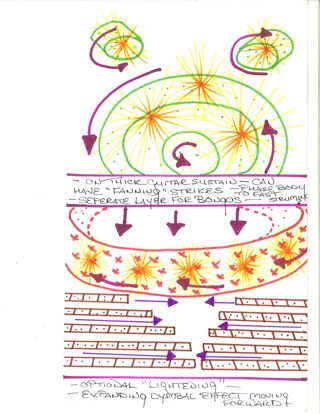 There's a write-up on his condition/ability in Psychology Today this week.
Perhaps you've seen him standing alone in the shadows at a live show in Toronto. Or maybe your band has been the beneficiary of his quiet promotion and networking.
I recently heard from the elusive man known as "Lonely Vagabond," who is said to have attended more live shows than anyone in his home city and for whom I'm maintaining his hard-won anonymity here so that he can describe hissynesthesia. The man who is out at least 300 nights of the year— usually alone—reached me on Twitter with his observations and drawings of the colored forms he sees for music— confessing the trait for the first time.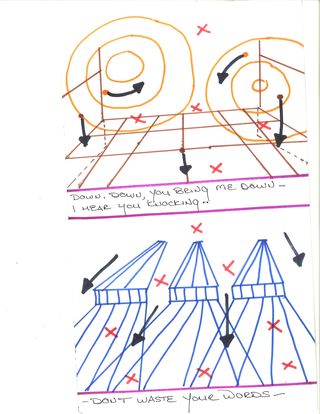 "I actually have two types of synesthesia: audio-visual, where I can visualize moving 3-dimensional images exactly timed to musical notes, and neuromotor, were I feel a slight jolt or pulse in my nerves/muscles exactly timed to musical notes. From what I've been told, these types of synesthesia are actually quite common on their own. (I assume most performers and dancers probably have neuromotor, e.g., Elvis with the twitching of the legs). But what's uncommon is the "combination" of the two. I once came across a figure that less than 5% of synesthetes have this rare combination. And maybe this explains why I've always worked at music or entertainment venues."
Cool, no? Keep reading.