Music Streaming is the Future. Get Used to It.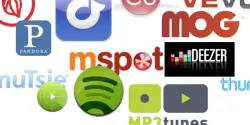 A couple of years ago, it was unthinkable that people would be willing to move from possessing CDs, vinyls and MP3s to music streaming services which, for a monthly fee, lets people"rent" all the music they can handle.
While there will always be people like me who insist on physically possessing a certain amount of music on shelves and on hard drives, there's still more music out there than I can afford to buy. And besides, I just don't have the time to shop for some of this stuff.
Sure, I still make plenty of planned and impulse buys on iTunes, but at 99 cents or $1.29 a song, the bills add up–especially if I just want to sample an artist or an album without making a big financial committment.
That's where streaming services come in. I'm a convert–for certain situations. If I want fast and easy access to a song, artist or album, I have it. I've gone from reading about a song on my smartphone to listening to it on that same device in 20 seconds. I'm hooked. Addicted. Sold.
I subscribe to both Rdio and Slacker. I've had a secret Spotify account for a while (don't ask). And I know of a major launch coming to Canada this fall that will be really, really cool. Despite the problems and drawbacks and financial issues, streaming is the way we're headed. Get used to it.
And I'm not alone. According to some new research, on-demand services of the Spotify ilk will generate nearly a BILLION dollars for the global music industry this year. That's a bump of 40%–and it's only going to grow faster.
Yes, CDs still dominate the marketplace. Of all the music sold, the marketshare share for CDs, vinyl and cassettes (yes, they're still imporant in some parts of the planet) is at 61%. But that's a drop of 12% from 2011. In Canada and the US, the drop is around 7%. But in the UK, physical sales are down 30%.
Why? Ease of use. Reasonable all-you-can-eat pricing. Smartphone penetration. Easier integration of smartphones with automobile infotainment systems. Increased bandwidth. Public awareness. And a young digitally-raised generation who doesn't see the point of the hassles of possessing music when access will do just fine.
Again, this doesn't mean physical product is going away anytime soon. You'll have to pry my CDs and records out of my cold, dead hands–and it'll take an EMP to wipe out all my precious MP3 files. I will continue to purchase physical music and MP3s for years to come. But I'm also using streaming to expand my musical horizons far, far beyond what they could be without it.
If you're part of The Resistance when it comes to streaming on any level, you'll soon find yourself in the minority.
Might as well embrace it. And once you're hooked, you're hooked. Trust me.
Read this BBC report for more.