The Sad History of the Super Bowl Halftime Show
[Here's a post from the past worth resurrecting for today. – AC]
For the life of me, I can't understand how Bruno Mars landed the halftime gig for Super Bowl XLXVIII.  But a quick browse through games of the past show that organizers have a patchy record of booking the right act.
Up until 1976, Super Bowl halftime shows were dull and boring with lots of marching bands and safe but irrelevant performers like Andy Williams and Carol Channing.  It took New Orleans to add some pizzazz into the proceedings with Super Bowl VI in 1972 with a tribute to Louis Armstrong starring Ella Fitzgerald but things reverted to form for 1973, 1974 and 1975.
Then in 1976, America's Bicentennial, producers decided to add a little more showbiz.  And their idea of "showbiz" was those overly optimistic kids in Up with People.  It was different than a marching band but compelling only to anti-rock'n'rollers and grandparents.
It took many years of Disney-sponsored halftime shows (I still remember the awful "It's a Small World" production of Super Bowl XI), more Up with People appearances (including a week tribute to Motown in 1982) and various generic salutes (music of the Caribbean, the big band era, Mardi Gras, movies and something called "children's dreams" (gaaaak!).
As bad as all that sounds, it was nothing compared to Super Bowl XIII in Miami (1989) when Diet Coke sponsored a show that featured an Elvis Presley impersonator doing card tricks.  I kid you not.
Then again, Super Bowl XXV in 1991 featured both another tribute to Disney's "It's a Small World" and a performance by New Kids on the Block.  Unspeakably awful.  Much of the set wasn't even seen on TV as ABC cut away to updates on the Gulf War.  The halftime show wasn't televised until after the game.
The modern era of Super Bowl halftime performances began in 1993 with game number XXVII when Michael Jackson was signed to perform.  Jackson was still uber-hot as a pop star and when the TV executives looked at the ratings the next day, they realized that the halftime show could be a major, major draw.  "Tell me why we've been hung up on marching bands again?"
The following year featured a big country jam at the Georgia Dome with Tanya Tucker, Travis Tritt, the Judds and Clint Black.  But then The Mouse flexed his muscles for Super Bowl XXIX, insisting on "A Tribute to Indiana Jones and the Temple of Dome" with Patti Labelle, Teddy Pendergrass Miami Sound Machine and, er, Tony Bennett playing the parts of square pegs going to round holes.
It was back to proper performers performing proper music with Super Bowl XXX with Diana Ross, a Blues Brothers bash (featuring ZZ Top, too) for XXXI, a Motown review with The Temptations, Smokey Robinson and Martha Reviews for XXXII and a Stevie Wonder appearance for XXXIII.  The tradition of having the biggest musical names possible has continued ever since.
My picks for the best performances? Here are three in no particular order.
1.  U2, Super Bowl XXXVI (2002):  A moving tribute to the victims of 9/11 featuring "Beautiful Day," "MLK" (a push for the new federal holiday) and "Where the Streets Have No Name."
2.  Paul McCartney, Super Bowl XXXIX (2005):  The "Hey Jude" singalong was magical.
3.  Prince, Super Bowl XLI (2007):  A hits-fest from The Purple One. Here's an oral history of that one.
The worst?  Well, we can pick anything from what I've already recounted, but the Black Eyed Peas gig in 2011 was hideous.  So was the weird Aerosmith/Britney Spears/'N Sync/Adam Sandler/Chris Rock/Ben Stiller mish-mash of Super Bowl XXXV in 2001.
So where will Bruno Mars rank in all this?  Somewhere in the middle, probably.  It all depends on how the Red Hot Chili Peppers get shoehorned into the festivities.
We can't leave this topic without discussing the famous Wardrobe Malfunction.
I don't understand America. TV viewers don't seem to have any problem with showing extreme violence on prime time TV.  But flash them a nipple for 0.5625 of a second and the whole nation goes ballistic.  And it wasn't even an entire nipple.
See the star pastie?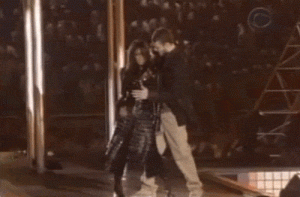 Here are a series of stills in case you need to study things closely.

The hue and cry was deafening.  "Indecent!" "Un-American!" "What about the children!"
In the end, CBS was fined $550,000 for this "indecency" that whipped by in 9/16 of a second.  Guns good, nipples bad.  That's America in a nutshell.
ESPN has the whole story on the "malfunction" and explains how broadcasting in the US was changed forever.
THE WOMAN WHO planned the show wasn't on the field to see her months of work go up in flames. Salli Frattini, an executive producer at MTV, which was contracted by the NFL to produce the halftime concert, was supervising from the production truck outside the stadium. She and her crew were riding high on the adrenaline of pulling off a 12-minute spectacular of music and choreography and pyrotechnics. When it ended, the truck erupted with cheering and high-fiving and hugging. The euphoria lasted just a few seconds before the phone rang. The officiating booth was calling, wanting to know whether they'd really just seen Janet Jackson's boob. The man on the phone was Jim Steeg, who had been head of special events for the NFL since the late 1970s, overseeing the evolution of the halftime show from a small-scale production featuring marching bands and dancing snowflakes and local heritage celebrations to full-scale rock extravaganzas starring the likes of Diana Ross, Michael Jackson and Aerosmith. When Nipplegate happened, Steeg was sitting next to the league's head of officiating, who was TiVo-ing the event. "He rewound it for me, and then I immediately called Salli," he says. "You could hear everyone screaming and hollering because what they pulled off and accomplished was over. I said to Salli, 'Did you see what just happened?'"
"We were like, 'Uh, we're playing that back right now,'" Frattini says. "There was lots of chaos in the truck, and we played it back and we were like, 'Oh, s — . What just happened?'"