Music and the Super Bowl Part 2: The Wardrobe Malfunction
I don't understand America. TV viewers don't seem to have any problem with showing extreme violence on prime time TV.  But flash them a nipple for 0.5625 of a second and the whole nation goes ballistic.  And it wasn't even an entire nipple.
See the star pastie?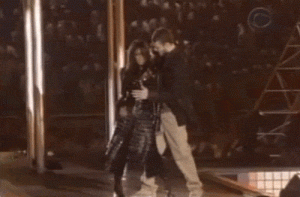 Here are a series of stills in case you need to study things closely.

The hue and cry was deafening.  "Indecent!" "Un-American!" "What about the children!"
In the end, CBS was fined $550,000 for this "indecency" that whipped by in 9/16 of a second.  Guns good, nipples bad.  That's America in a nutshell.
ESPN has the whole story on the "malfunction" and explains how broadcasting in the US was changed forever.
THE WOMAN WHO planned the show wasn't on the field to see her months of work go up in flames. Salli Frattini, an executive producer at MTV, which was contracted by the NFL to produce the halftime concert, was supervising from the production truck outside the stadium. She and her crew were riding high on the adrenaline of pulling off a 12-minute spectacular of music and choreography and pyrotechnics. When it ended, the truck erupted with cheering and high-fiving and hugging. The euphoria lasted just a few seconds before the phone rang. The officiating booth was calling, wanting to know whether they'd really just seen Janet Jackson's boob.The man on the phone was Jim Steeg, who had been head of special events for the NFL since the late 1970s, overseeing the evolution of the halftime show from a small-scale production featuring marching bands and dancing snowflakes and local heritage celebrations to full-scale rock extravaganzas starring the likes of Diana Ross, Michael Jackson and Aerosmith. When Nipplegate happened, Steeg was sitting next to the league's head of officiating, who was TiVo-ing the event. "He rewound it for me, and then I immediately called Salli," he says. "You could hear everyone screaming and hollering because what they pulled off and accomplished was over. I said to Salli, 'Did you see what just happened?'"
"We were like, 'Uh, we're playing that back right now,'" Frattini says. "There was lots of chaos in the truck, and we played it back and we were like, 'Oh, s — . What just happened?'"