Music Technology MeetUp – The Business of Podcasting-UPDATED
---
UPDATE: WIN at Our Next MeetUp!
Hey Music Tech Enthusiasts we have a special announcement.
RSVP and attend our next MeetUp (July 26) for your chance to win a free, 30 minute consultation on publicity for your company or band from the PR geniuses at rock paper scissors.
Valued at $200 a piece, they are happy to provide 3 winners from the Music Tech Meetup with a free, 30 minute Skype conversation on how to get more publicity for their company or band.
About: rock paper scissors is a PR firm known for compelling story angles, deep storytelling, best-in-field systems, and strong accountability and are considered thought leaders in music tech, the music industry, and PR. Some of their clients include CD Baby, Lyricfind, Tunefind, and Loudr and they regularly place pieces in outlets such as the NY Times, NPR, Billboard, TechCrunch, Forbes, and more.
RSVP now for your chance to win.
---
My next Music tech Event will be held at the beautiful Sandbox at Ryerson University on July 26. I hope you'll join me and other Music Technology enthusiasts and experts.
This time, I'll be moderating a panel on "The Business of Podcasting."
As usual, attending the event is free. And even though we're a total non-profit group, we will provide free pizza, snacks, and drinks—all free of charge (you can't network on an empty stomach, right?). But we need you to RSVP. And thanks to Steamwhistle AGAIN for their support and the free beer!
I'll see you there! Details below:
Panel title: The Business of Podcasting
Panel Moderator: Alan Cross is an internationally known broadcaster, interviewer, writer, consultant, blogger and speaker.  In his 35 years in the music business, Alan has interviewed the biggest names in rock and is a respected a musicologist and documentarian.  He's written four books, works as a public speaker, wrote a national newspaper column in Canada and co-hosted podcasts and served as head of Canadian Curation for Songza.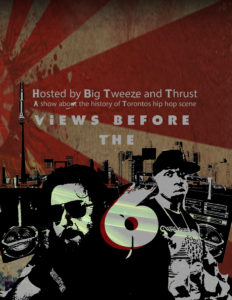 Panelist: Thrust aka Chris France, is a Canadian rapper from Toronto, Ontario. He is most known for his appearance on the Rascalz' 1998 single "Northern Touch" which also features Kardinal Offishall, Choclair, and Checkmate. Beginning from the cardboard up in 1982 as a break-dancer, Thrust's career has touched on virtually all sides of hiphop culture. A former co-host of CKLN's Saturday-afternoon hiphop crucible The Power Move, Thrust's microphone mastery moved through several different tag-team incarnations – from Thrust and Supreme to KGB to a Child's Garden of Grass – before the rapper eventually grabbed the mike and went solo.
Panelist: Big Tweeze aka Anthony Corsi. A lot of people think that Toronto's hip hop scene starts with Drake… boy are they wrong!! Take a Toronto hip hop enthusiast (Big Tweeze) and a Toronto hip hop legend (Thrust) that want to tell that history and You get Views Before The 6… a podcast about the early beginnings of Toronto's hip hop scene. We sit down with the pioneers of the city and talk everything for early radio, dj's, concerts and much more on VIEWS BEFORE THE 6
Panelist: Lindsay Bess is an author and visual artist from Scarborough, Ontario, who devoted her time to Hip Hop and community radio between 1993-2005. She began as a volunteer at CKLN 88.1 FM, where she met Jemeni, then station Music Director and co-host of The Power Move Show. As Jemeni branched out in 1997 to create Droppin Dimez, alongside DJ Stache, she created the first of its' kind in Canada: a woman-centered Hip Hop show with an all-female line up. Bess stepped up as host when Jem moved on to Flow 93.5, and shortly after joined forces with CHRY alumni DJ MelBoogie. Droppin Dimez became known as "Canada's only all-female Hip Hop show" and continued to hold space for female DJ's, co-hosts, creators and lovers of Hip Hop until CKLN 88.1FM finally shut it's doors in 2011.
Panelist: Gina Kennedy is a radio host, voiceover actor, and podcaster originally from rural Nova Scotia. She came to Toronto to host her own Canadian indie rock show on SiriusXM Canada and be on-air at Indie 88.1,  interviewing big Canadian music stars like Steven Page, Brody Dalle, Matthew Good and more. Nowadays, she hosts her own podcast, Radio Somewhere, a female-focused Canadian music show featuring great musicians and industry professionals alike.
StartUp Spotlight – The Music Expo. Casual Music Fan?  In a band?  Want to learn a new instrument?  Plan on coming to this awesome annual event!
Event Agenda: Wednesday, July 26th.
6:00 Doors open/Networking
7:00 Alan Cross's Panel on "The Business of Podcasting," followed by Q&A
8:00 Open Floor/Networking
9:00 Doors Close
Location: Ryerson University Student Learning Centre (SLC) Sandbox : 341 Yonge St, Toronto, ON M5B 1S1
If you would like to attend the event, please RSVP at MusicTechnology.ca. You can also email Nathalia Ribeiro at [email protected] if you have any questions about this event or if you're interested in joining our line-up of presenters at our upcoming events.
Please follow us on Twitter at @MusicTechTO, Instagram and like us on Facebook
SPONSORS
The Music Den is an free incubation program that provides guidance and support to entrepreneurs and innovators focused on the music industry. We offer community, resources, business advice and mentorship to budding entrepreneurs, technologists and service providers who are passionate about creating innovative tools and services for the music industry. Our program helps you design a sustainable long term strategy while giving you access to resources to scale your business, including coworking space, equipment, studios, editing suites, and more.
Northside Hip Hop Archive is a digital collection of Canadian hip hop history and culture. This site is home to a collection of artifacts and multimedia memorabilia that has yet to be digitized and/or catalogued. Northside hip hop showcases a diversity of items from Canadian hip hop history, such as the first vinyl recordings, art, performances and literature from across the country. We are a 'living archive', capturing and documenting Canadian hip hop culture, past and present. Northsidehiphop.ca does not and cannot capture everything, rather what we try to do is to begin the process of documenting our histories.