Music With Me: Combining Social Sharing and Discovery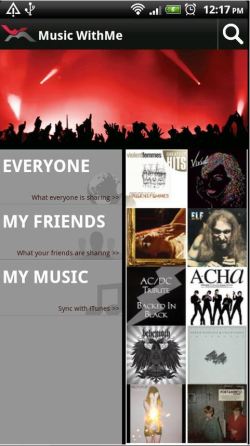 I have an app on my iPhone called Bump that allows me to share my contact information with another iPhone user just by doing a Obama-like fist bump. I've long thought it would be cool to be able to share music the same way.
I still can't do that, but Android users can.
Enter Music WithMe (yes, it's spelled like that), a wireless sync application that works with your phone, desktop and friends. From their website:
Share music with friends, wirelessly sync iTunes between your phone and desktop.
Music WithMe uses ParkVu's technology to intelligently sync users iTunes music to their Android device without the need to upload an entire music collection. Music WithMe delivers an unequalled music experience on any device.
Here's more:
Approved to have 100% of music shared on Twitter
Tune In to discovery music shared on Twitter without following a person
Tune Out to your friends on Twitter who have bad music taste
Web pages for every person who has shared on Twitter (http://play.withme.com/shares/tgurtzy)
Web preview of all music friends have shared on Twitter (http://play.withme.com/shares/tgurtzy/friends)
Option to sync all music and support music stored on external drives (or USB)