Musical Abundance = Fickle Music Consumption
My wife hates buffet restaurants.
"There's just too much food! Too much choice! Too much waste! Buffets confuse me and make me queasy. Give me a simple limited menu and I'm happy."
Now let's apply this thinking to music. Any streaming music service will give you access to about 35 million songs. Is that too much choice? Does the thought of having to find gold within a number that large make you queasy? If so, you're not alone.  Let's go to Mark Mulligan of Music Industry Blog:
Today at MIDEM I presented the findings of an exclusive piece of research conducted by MIDiA Research in conjunction with MIDEM entitled 'On Demand In Demand: Meeting The Needs Of The On Demand Fan'.  The resulting report will be made available exclusively to MIDEM attendees and also to MIDiA Research subscribers.  Here are some highlights.
Streaming is the way in which people engage with music and is creating fundamental behavioural shifts among subscribers emerging that point to the future of music consumption.  The abundance of choice represented by 30million tracks is leading to shallower engagement, especially among subscribers.  58% of subscribers report listening to individual albums and tracks just a few times while 60% are doing this more than they used to because the are discovering so much new music.  With CDs and downloads the buyers typically listened many times over because a) they had paid for the release and b) it was the only new music they could listen to on-demand.  With streaming no such barriers exist.  Users can discover, sample, bookmark / like / favourite / add and then move on. Ironically the better that discovery tools function on streaming services the more this trend will exacerbate.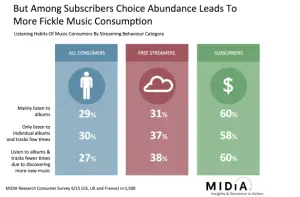 Read the entire article here.