Must-Read Article for Artists: The Success of Hoodie Allen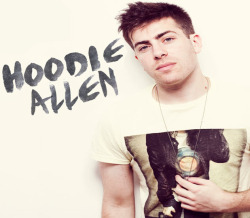 With the record industry in total f**k-me flux, how does an artist manage to cut through? With so much music to choose from, how do you reach potential fans? This is why the story of Hoodie Allen is interesting.
He's a Long Island rapper with a self-released EP called All American. Last week, this EP charted at #10 on the Billboard Top 200 despite almost zero media cover and zero radio airplay. Then how did he manage to sell 27,000 copies of his record? Social networking–Twitter, especially–and by handing out free music.
From Variety:
"I don't know anyone else who has even attempted to do this, or pretend like they are," Allen says of his constant social media presence. "I think it has formed a real fandom."
The rapper, born Steven Markowitz, says he tries to answer every message from fans and critics, an effort that has helped him amass more than 51,000 tweets since 2008.
It's a social media success story many artists have attempted, but few have mastered, though marketing "All American" involved more than just answering fans: Allen's degree in marketing from the U. of Pennsylvania helped him craft the careful strategy behind his success. "I always liken music to a new product, and with any new product, you want to create as (few) barriers to entry as possible," he says. "That really was the foundation of the philosophy."
If you're an emerging artist, you need to read the rest of this article. Hell, if you're any kind of artist or person connected to the music business, you need to read it. Then watch the video from his breakout song, "You Are Not a Robot."
UPDATE: At 3:20 this afternoon, this appeared in my Twitter feed:

See what I mean? That's how it's done.